Can you imagine typing without use of keyboard. Certainly your thinking it is not possible, or maybe you are remembering your childhood when you type in air as for fun. But now it become possible to type without keyboard with the help of new gadget. This new gadget's name is "Airtype". It will make users to type without the use of keyboard. It's really fun and amazing to watch a person to type without keyboard. After reading this article you will be able to know about the Airtype : it make possible to type without keyboard.
Airtype : it make possible to type without keyboard
Airtype gadget is like smartband. It is so small in size. User can wear this device in his hand and it will assume that what user want to type with the help of user's hand's activity. User can see video of Airtype on youtube also where use of this gadget shown by a user in different ways. This gadget is just like a bands which have to wear by user in his hands. The interesting thing in this gadget is that there is not visual in this gadget.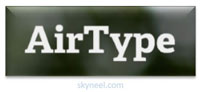 This gadget is very easy to carry anywhere. It is designed in this way that user can take it to any place just like mobile. According to Airtype website this is a smart system which will notice the typing habit of user. With the help of app it will prepare dynamic text prediction of user. The words which are usually type by user, this app will prepare prototype of those words. This device can be connect with the Smartphone and Tablet with the help of Bluetooth and NFC.
Must Read:
Now after its use only it can be said that how much this gadget is effective and will help the user.