There are many people for them it is not easy to collect all knowledge about math and even they can't solve math puzzle easily. Wolfram Alpha app is a kind of app which can solve your all these problems. It can be called computational knowledge app cause of its working method and features. In this app you can get many other features along with mathematics which are elementary math, numbers, plotting, matrix, calculus, geometry, definitions, number theory, and statistics and data analysis. In this app there are materials, engineering, astronomy, earth science, life science, computational science, unit and majors, dates and times and places and geography also available. This app is very important, useful and source of knowledge. This is not only an app, it has its site too. After reading this article you will be able to know how All queries of maths can be solved by Wolfram Alpha app in your smartphone.
Method of work:
If you feed today's date in this app, at this very moment you will get all the knowledge about this day. For example this is the 102nd day of this year and it is in 15th week. You can also know by this app that 27.67% year has passed and 72.33% year remains. All worldwide knowledge related this day will also be available in this app. Users who seek knowledge, for them this is very useful app.
Must Read: Calculating Person's current age using DATEDIF in Excel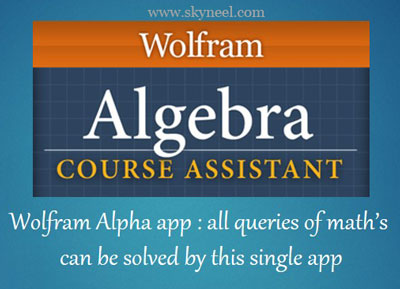 Download for Android from Google play click here
Download for i phone from iTunes click here
Queries of maths can be solved by Wolfram Alpha app and make easy for children:
Often Maths known as boring and difficult subject, but it is not really so. There is only need to learn basics. In age of smartphones there are many apps which can be used to teach children Maths easily. Their problems can easily be solved. Smartphone makes learning easy and fun too. Although it doesn't mean that we should hand over Smartphones or Tablets to children. We can teach them through this new technology. Our  own involvement also important with them.
Must Read: IF Statement, with And Function in MS Excel
There are few apps which can you use:
Kids Academy: Very useful for small kids.
Number Monster: Very useful in recognizing numbers.
We Kids: through Maths game recognizing numbers and basic Maths.
Math Farm: It has basic games of Maths.
Math Bingo: This game of number is good for adding, subtraction, multiply and divide for kids.
Credits : Wolfram Alpha