We can see Amazon Echo in many homes in India. In this IoT Smart Speaker, Amazon has given Alexa Voice Assistance, which is why many professionals use this device to manage their calendars. At the same time, children living in homes like to talk to Alexa. After Amazon Echo and Amazon Echo Dot, Amazon Echo Show has also been launched in India. Amazon Echo Show also has an HD display panel with all these voice command features. Today our experts are going to tell you Amazon Echo Show Review in this article. You should definitely tell by commenting about how you liked this article.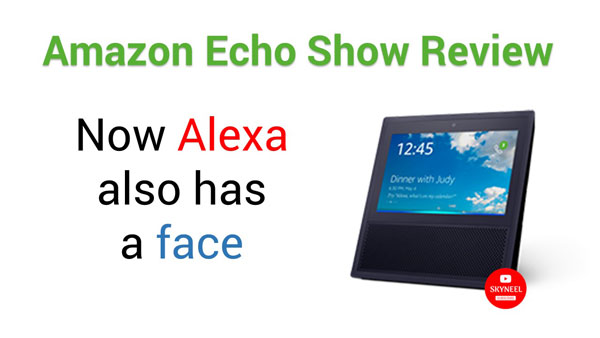 Amazon Echo Show is not just a Regular Smart Speaker. You get a small speaker in its heart but its biggest feature is its big display. You can like this echo show quite well. It's not just a boring-looking smart speaker, it can be a center of attraction for your living room. In addition to listening to your favorite music through the voicemail on Echo Show, there are several unique features that can make your home a smart home.
Must Read: Smartphone can harm your neck and eyes disease, be careful
Specifications
Any device should be aware of its features before purchasing it. Before telling these features, I would like to tell you that Echo Show has been launched in India at a price of Rs 22,999. This device powered by Alexa is a 10-inch HD display on Echo Show which is responsive. Its display resolution is 1280 x 800 720p HD resolution. For audio, it has a neodymium driver with a 2-inch disabled base radiator. Apart from this you can also set the Personalized Equalizer setting. It weighs 1765 grams and also has a 5 megapixel camera which is used for video calling. It works with advanced technology and processing capabilities on the Intel Atom X5-Z8350 processor.
What did i like
If you have used Amazon Echo Spot, it is not too difficult to use Echo Show. Both have basic features in common, the biggest difference between these devices is the size and circular display. It's easy to set echo shows, for that you have to install the Wi-Fi connection and the Alexa app on your smartphone. This gives you a stationery tablet experience. Its display is optimized according to content. It's easy to set up its brightness, settings, notifications, etc. You can set it to the right of the echo show display. In addition to the voice commands, you can also see internet browsing, video, latest news, cricket scores in this device. In addition you can also access the content of Amazon Prime Video.
It comes with 15 thousand skills because it provides voice support in it, it learns your daily usage patterns. With the help of its 5 megapixel camera, you can also make video calling with your friends and family members. You do not have to depend on Skype and other apps for this. It also supports video calling and messaging features. Apart from this, another interesting feature is that it gives you updates about everything. From breaking news to funny jokes, it provides information through pop-up notifications. With its help, you accomplish most of your work in a smart way.
Must Read: How to Recognize Virus Spyware Attack yourself
Decision
Echo Show A smart home speaker can be called a merged device with a display oriented information device which allows you to attach and interact in any situation. Smart Home Speakers have become quite popular today. It will be liked by those who use smart lights, plugs, security cameras, air conditioners and smart TVs to make their homes a smart home. This is also for those users who are already using Echo Plus and are looking to upgrade their device. Echo Show is not only a smart home speaker but also a comprehensive smart device in the price tag of Rs 22,999.
In this article, we have told you about Amazon Echo Show Review. If you liked this article, you can also like our Facebook page and also subscribe to our YouTube channel. If you have any problems related to this article, you can tell us by commenting.