Amazon India, the country's second largest e-commerce company, has announced the first Great Indian Sale in the new year 2019. The Amazon Great Indian Sales will start from January 20 and last until January 23. This sale will bring great offer with discounts on many popular gadgets as well as lifestyle items.
Amazon will also have a special offers on its own brands. During the Amazon Great Indian Sales you will get up to 3000 off on any Amazon devices. Any interested laptops consumers will be able to get up to Rs. 30000 off on different companies laptops.
Must Read: How to Add language in Google Chrome on Android or Desktop PC
You will get different big deal on smartphones, laptops, cameras, headphones, appliances, and a many more. The online marketplace has tied up with HDFC Bank. Amazon will offer 10 per cent instant discount with HDFC Bank Debit and Credit cards. For EMIs, Amazon will offer no-cost EMI payment on Debit and Credit cards. Bajaj Finserv EMI card owners will get special exchange benefits on thousands of products across smartphones, TVs, ACs and different other categories. First-time shoppers will also get free deliveries in this deal.
Amazon Great Indian Sale Announced Starts From January 20
While the Great Indian Sale will begin from January 20, Prime members will have early access to the Amazon Great Indian sale starting 12 PM on January 19. That's 12 hours before everyone else can get their hands on the deals on the Great Indian sale.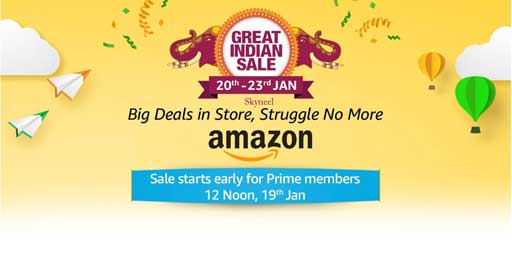 Amazon has started teasing some of its upcoming deals from the Great Indian Sale. The online marketplace is promising an 'unbeatable exchange offer' on the OnePlus 6T, 'lowest ever' price on the Redmi Y2 and the Huawei Nova 3i at a 'never before price'. Amazon is also promising special offers on the Honor 8X. The company hasn't revealed any specific prices or discounts yet.
Must Read: 2017/05/15 How to open Multiple Facebook Accounts on Android or iPhone
The company claims its customers will get best deals and discount on many major brands including Apple, OnePlus, Realme, Xiaomi, LG, Philips, and others on the Great Indian Sale.
The Amazon listing states that consumers can avail up to Rs 30,000 off on laptops while external hard drives will be available with discounts of up to 60 per cent. Refrigerators will be getting price cuts of up to Rs 35,000 while TV s can be availed with a maximum discount of Rs 40,000 on certain models. You will get up to 50 percent off on TVs and appliances during the Great Indian Sale. Amazon will also offer discounts of up to Rs 25,000 on air conditioners. If you're looking to start with electronics, you will get a discount on few decent products.
Over 50 lakh books will be available at discounted prices during the Amazon sale while video game consoles will be available with no-cost EMI options. In this deal you will also get over 2,000 fitness and sports products.
Steps how to participate in Amazon Great Indian Sale
Step 1: If you already have account at Amazon.in then login at your account. But if you don't have any account then first register yourself and create a new account for online shopping purpose.
Must Read: Important Tips and Tricks of Google Chrome
Step 2: Click on the Today's Deals category. Check and select the required product which you want to buy. After checking all the detail of the product add this product in your shopping cart.
Step 3: Check you estimate your shipping detail by clicking on the "Estimate your shipping" option. You have to fill pin code of your area and click on the Get estimate button. After review you shopping cart fill the shipping address.
Step 4: Finally choose the payment mode to pay the amount of product. All HDFC card holders get up to 10% discount during shopping from Amazon App.
Then why are you waiting. Prepare the list of required product, check the best deals, offer, price etc and add them in to the cart. Now get the benefit of the Amazon Great Indian Sale 2019 Offers which is started from January 20 till January 23.