E-commerce platform Amazon Dot Inn announced its annual Summer Sale in May. This Sale will run from 4th May to 7th May, 2019 Amazon Prime Members will have access to this Sale on May 3 at 12 noon. In Amazon Summar Sale, consumers will get thousands of offers and offers on smartphones, electronics, large home appliances, TVs, fashion, sports and other products. Customers in this Sale can buy more than 17 million products on the Amazon dot-in. This Amazon Sale will get bumpers discount on laptops, smartphones, speakers, tablets and other products.
Amazon India's Vice President, Category Management Manish Tewari said that Amazon Summer Sale has been designed to present all the products that are looking for consumers this season. In this summer Sale you will also find great deals, instant discounts, no-cost emi and convenient exchange offers.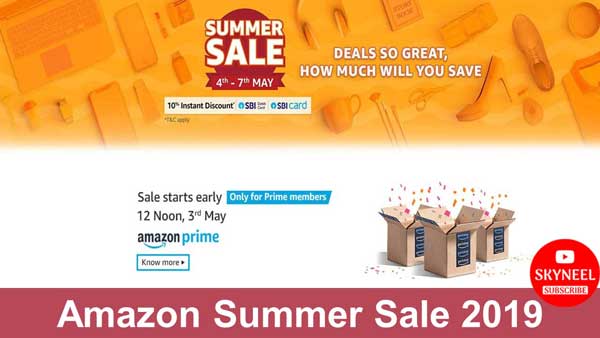 Must Read: Amazon Spin and Win Quiz Answers
Customers who use SBI Debit and credit card during Summer Sale will also get 10 percent additional Instant Discount. In addition, consumers can buy more than 100 million products using the Bajaj Finserv Card and select Debit or Credit Card.
Let's know about some special offers of Amazon Summer Sale 2019
Amazon India has not yet veered off all the offers received in Amazon Summer Sale, although the company has given a glimpse of offers. Smartphones and accessories are getting discounts up to 40 percent in the Amazon Summar Sale. Amazon India has said to offer Lowest Price Ever offer in this Sale. Under which one will get a discount on OnePlus 6T, Redmi 6A, RealMe U1, Honor Play, Viva Nex and iPhone X.
Apart from the flat discounts, Amazon's Summer Sale will also get an offer. Exchange offers are available on many smartphones including Oppo F11 Pro, Samsung Galaxy S10, Viva V15 Pro, Oppo F9 Pro and Oppo R17 Pro. There will also be a choice of No Cost EMI in this Sale. Additionally, you can participate in the Daily Quiz on Amazon and can win the prize by giving the correct answer.
Must Read: Amazon Fire Stick upgraded with All-New Alexa Voice Remote
Amazon Summar Sale will also get a discount on various budget smartphones. This list will also get a discount on Samsung Galaxy M10, Redmi 6A, Vivo Y83 Pro, Honor 8X, Huawei Y9, Zolo Z-X smartphones. While under the Low Price Price Offer, you will get a discount on Radmi 6 Pro, Radmi Y2, Honor Play, Honor 10 Lite. Discount on Huawei P30 Pro, Oppo F11 Pro, Samsung Galaxy S10, Viva V15 Pro, Galaxy M30 and Galaxy A50 Smartphone will also be available.
In this article, we have told you about Amazon Summer Sale 2019. If you liked this article, you can also like our Facebook page and also subscribe to our YouTube channel. If you have any problems related to this article, you can tell us by commenting.