Car care in lockdown tips: The country is currently facing a 21-day lockdown in view of the increasing outbreak of coronaviruses in the country, due to which people as well as their cars have been confined to their homes. The whole country is struggling with the Coronavirus epidemic at the moment, if the car stays in one place for a long time, then it can cause a lot of problems if it is started after some time.
Must Read: Aarogya Setu Corona Tracking App will give tips to avoid infected person
Car care in lockdown: tips to keep car safe in coronavirus lockdown
In such a situation, it is also very important to take care of cars parked at one place for a long time. If you follow these 5 basic tips, then you will not face any problem in restarting your car after lockdown. Today we are telling you here how in the meantime you can take care of your car.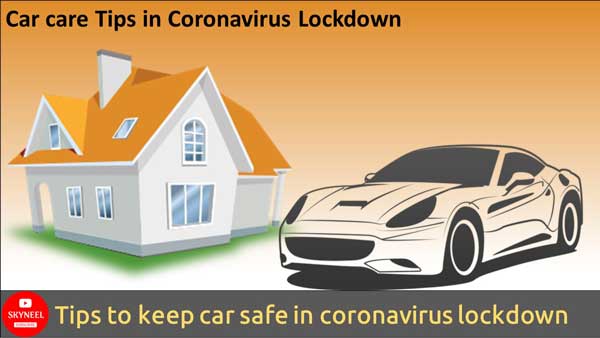 Tips to take care of your car during Coronavirus lockdown
Between the lockdowns, if your car has been standing in one place for a long time and has not moved, then you may face a problem in your car. So by following the tips given, you can keep your car safe in lockdown.
Must Read: Coronavirus Lockdown Work at Home – Tips to reduce Stress
Tips 1. Keep the exterior clean
Due to the long standing carriage at a place, dust and dirt freeze on it. In such a situation, it takes a long time to clean it and sometimes the car will remain forever stained. In such a situation, we need to clean our car with water at least twice a week and then leave it to dry for some time. It would be better if you park the car indoors and cover it with cover.
Tips 2. Keep the interior clean
It has often been seen that people who use the car daily, store some extra things in the storage space of the car. If you also store snacks or any liquid items in the car, then remove them and clean the cabin. Because these things can go bad after being in the car for a long time. You can also use disinfectant spray to keep the interior of the car clean and safe for a long time.
Tips 3. Battery Maintenance
If the car remains locked for a long time, its battery is discharged. In such a situation, it is important that you start the car every two or three days to keep the battery charged and leave it for 15-20 minutes and allow the engine to heat up. If you want, during this time, you can also check the car's wiper, AC, light, etc., that they are working properly.
Must Read: MyGov Corona: Government created help desk for WhatsApp users
Tips 4. Hand brake / parking brake
If you already know that the car will be standing for a long time, do not stand it by applying a hand brake. Car brakes may be damaged or brake lock may occur due to long hand brakes. You can park your car on the plane surface by putting it in first gear. If the car is standing in a sloppy place, then put brick or chalk block under its tires, this will not cause the car to move forward.
Tips 5. Tire Pressure
Whether you use the car or not, after some time the air in the tires of the vehicle automatically reduces. In such a situation, if the car stays in one place for a long time, the chances of flat spots on one side of the tire increases, which directly affect the tire grip, ride quality and mileage of the car. In such a situation, it is important that you keep moving the vehicle slightly back and forth in a span of few days, so that the tires can rotate. Also, keep in mind that the tire should always have proper air pressure. When the air is low, fill the air in the tires with the pump.