Do you know during taking the selfie from the font camera off your smartphone image is reversed or mirrored? When you take all the selfies have been saved just like a mirror images on your smartphone. Do you know how to disable mirror image in a selfie camera on your phone?
Must Read: Important tips to boost up Android phone
Most of the person don't know about the mirror image. Don't worry in this guide we have to discuss how could you easily disable mobile phone front camera taking mirror images. Mirror Image allows you to you view the taken picture from selfie camera right to left and left to right. It just looks like in front of mirror.
When you taken a selfie camera with text or image in background, during viewing the background text or image would be flipped horizontal. The background images is flipper during viewing the image which is taken from front camera. In that situation you must have to know how not to get a mirror image in a selfie camera.
How to disable Mirror image in a selfie camera
By default mirror image in a selfie camera is set by the manufacturer in your phone. When you take any selfie from front camera it looks like a natural. But when you view the saved mirror images background text or images are flipped horizontally. If you don't want to get a mirror image in a selfie camera then you must have to disable mirror image option on camera app. To do this job you have to take few given simple steps on your smartphone.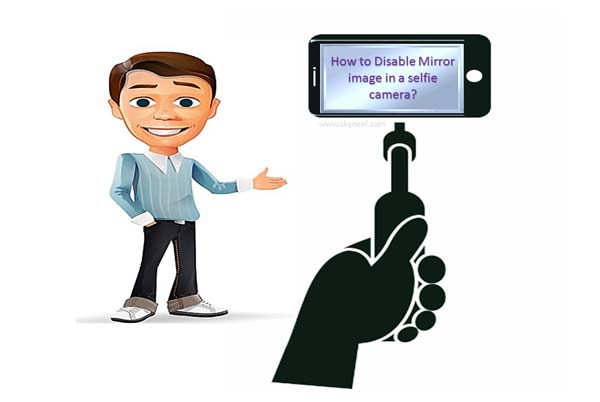 Must Read: 11 Awesome Smartphone Tips and Tricks
Step 1: Open camera app on your smartphone and turn on front camera for taking the selfie.
Step 2: Press Menu option which is located in top left corner of your camera app. Locate the "mirror front camera" and turn this option "Off". In few smartphone given option not found in that situation locate the "Selfie mirror" option. By default this option is "Disable". Now you have to "Enable" the Selfie mirror option in your smartphone.
Step 3: After finish the changes take another picture from you front camera and check your images are saved as a normal image. These images are not mirror or flipped due to turn off the mirror option.
I hope after reading this article you can easily understand how to disable mirror image in a selfie camera. After turn off mirror image option you can view normal image at the place of flipped image. If you have any issue to know how to disable mobile phone front camera for taking mirror image, put your query in comment box. Thanks to all.