Google has brought several updates to its email service Gmail in the past few months. With these updates Gmail has provided new features with improved design and some essential tools. In these updates Gmail has got a great feature that makes your email compose way better and faster. This Gmail feature is Ai powered and it looks at your mail and suggests words to be typed next to it. Let's know in detail what Gmail Smart Compose and Smart Reply features is and how you can take advantage of it.
New Gmail Smart Compose and Smart Reply features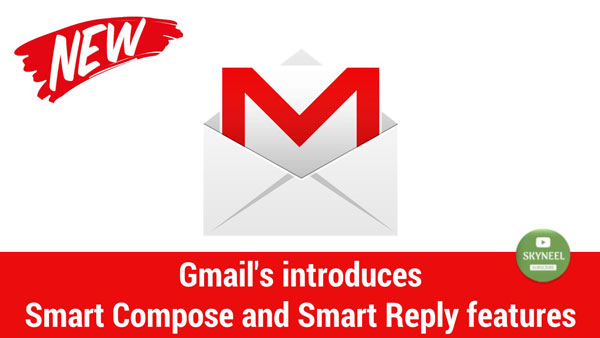 Must Read: How to send an e-mail secretly from Gmail's 'Confidential Mode'
What is Gmail Auto Writing feature
Gmail has given the feature 'Smart Compose' and 'Smart Reply' to send emails and reply to the emails received. Both of these features are AI based. This feature is considered by you as a typing habit and whenever you type a new email, it suggests words typed next to your typing habit. Not only this, it also organises the subject of your email based on the message you typed. If you talk about Smart Replay, this feature will respond to you based on the contents of the email. It can also be called pre-generated response.
How to turn this feature on
To use smart composites on the desktop, you have to open Gmail website. After this you have to click on the gear given in the corner on top right in Gmail. With the click here, the settings will be available. Going forward, you have to select the 'On' option given in front of smart compositing suggestion and smart reply feature. With this, you can also turn on the 'Smart Compose Personalized' setting. By doing so, Gmail will personalize the further writing according to your writing.
Must Read: How to create a Gmail account without phone number
Such as on android and ios activate
If you use Gmail on a mobile phone, open the side drawer from the left side. Go to the settings option at the top here. After entering the settings you will see smart compose and smart reply option. On both of these options you have to turn on. Let's say that this Gmail feature is currently rolled out only for Android devices.
In this article, we told you about Gmail Smart Compose and Smart Reply features. If you liked this article, you can also like our Facebook page and also subscribe to our YouTube channel. If you have any problems related to this article, you can tell us by commenting.