Google is going to launch a new smartphone soon. Special quality of this phone will be that user himself will select RAM, camera and other hardware according to his need. In fact Google's this phone will be modular smartphone. Now, Google will launch smartphone in India only Rs 3000 and it is useful for all those persons who doesn't want to spend extra money for buying new latest technology smartphone.
According to company price of this phone will be about $50 means Rs 3015. In ARA development conference of Google it is announced that company will make this phone available for people in January 2015. This phone will be made by Moto-maker. Special feature of this phone is that this phone will be customize by user himself (choosing hardware of phone by user). The name given to this phone is "Gray Phone".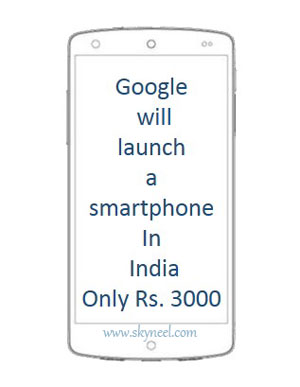 Features of Google Smartphone:
There will be simple looking frame in gray phone. Along with Wi-Fi, Processor and many other plug will be install in it. This phone will come in many colors and according to users' choices accessories will be added. According to head of ASA Paul Eremenko the process of preparing this phone is started. He said that many type of batteries can be used by this phone. When one battery become discharge another battery can be used.
Camera of this phone will be of low resolution. Along with it some 3D print parts can also be used. After printing hardware parts for phone by users, they can customize their phone themselves. This phone will have Wi-Fi feature, but it will have lack of cellular connectivity.
Must Read: Kill Switch : A necessary in App for all smartphones
According to Google this phone will have two parts -one is Spine and another is Endoskeleton whose nickname is 'Endo'. In each gray phone these parts will be necessary.
This gray phone will be in three important size. They will be mini, medium and large size. According to its size phone will support hardware components. Google says that any sensor which is fit in this phone will be used in this phone. According to Paul main modules of gray phone will be work about 5-6 years. For this users have to upgrade their phone regularly.
Must Read: Safe and secure your device with Android Device Manager App
In modular phone users can decide themselves that what type of hardware their phone have. For example if your need is low power camera and high speed, you can choose 2GB RAM instead of 1GB RAM and assemble your phone. It is like assembling computer. You can add RAM, Processor, 3G-4G, NFC and many other features according to your need and choice.
In this article you know about Google will launch smartphone in India only Rs 3000. if you have any query please comments.