Today WhatsApp is very popular app on android Smartphone, millions of users are use this app because it is easy to use, easy to install and free of cost.  How you could download WhatsApp Messenger Android mobiles? If you want to download WhatsApp on your Android Phone, then read this post to easily download WhatsApp on Androids phone. Now, you can easily download and run your WhatsApp on Androids Phone. A wide variety of apps are available on the Google Play Store.
Must Read: How to use Nested "IF" function with OR function in MS Excel
Download WhatsApp feature for Androids Phone is very easy. You can take following given steps to easily download and run WhatsApp directly on your Androids Smartphone. If you follow these given instructions properly you're you can easily run WhatsApp on your Androids Smartphone within few minutes.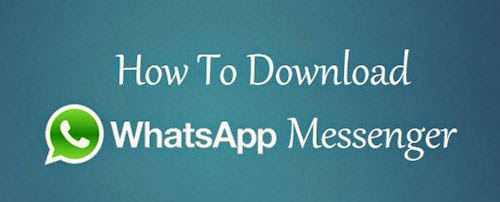 Easy steps to download WhatsApp Messenger Android Mobile
Step 1: You have to click the Google-Play-Store Apps to open on your Smartphone. This App was earlier called 'Android Market'. When you select or click on "Google Play Store", you will get a screen from. Click on the search button which is placed at the bottom of the screen.
Step 2: Type the following app name in the search filed 'WhatsApp'. When you press enter or return key to start searching you will get a variety of different related app of "WhatsApp". You can select topmost searched result.
Step 3: Notice that you will see review and short description and also view size of this app of WhatsApp on Android Phone. To start downloading this app click on install button which is located at the bottom area of active window. After few seconds, your installation begin start on your Android Phone.
Step 4: After completed few minutes, a message flashed on your screen, that installation is completed. You can check that your app is properly installed or not by opening downloads folder. Finally, you just click on the WhatsApp icon and feed your mobile number properly. After that you get a code from the SMS on your registered mobile number, enter this code in this app. Now, you can set your contact list to use for WhatsApp for starting chatting, send or receive text messages, audio and videos.WhatsApp Android Phone is now ready for use. Have fun!!!!!!!!!!!