Hi friends, at present time billion of users must have to use Android Smartphones. Most of the Android Smartphones users use Google Chrome to surf on the Internet but they face problem during reading the web page contents. So, due to avoid this type of problem today we have to discuss about the latest feature of Google Chrome. Google Chrome browser gets a latest features for all Android users, it is called "Reader Mode". You can easily enable Reader Mode in Google Chrome on your Android Device. This features provide facility to read all web pages on your Android device without any disturbance.
In this feature Chrome hide all the ads, web page navigation, header etc. It's only showing the articles and make more comfortable for users to read these article. Google improves chrome day after day for desktop and mobile users and make easy to read articles on the Smartphones and Tablets. This feature provides essential elements of articles to users like text and regarding image and videos. You can easily change original view to Reader Mode and  Reader Mode to original view. You can find reader mode option in chrome address bar and Original View option in end of the article.
How to enable Reader Mode in Chrome on Android Device:
Step 1: First of all open Google Chrome on your android device, then tap on the chrome address bar and type chrome://flags, then tap on the Go button on keyboard. You will see an option list of chrome browser. Now scroll down and find "Enable Reader Mode Toolbar Icon".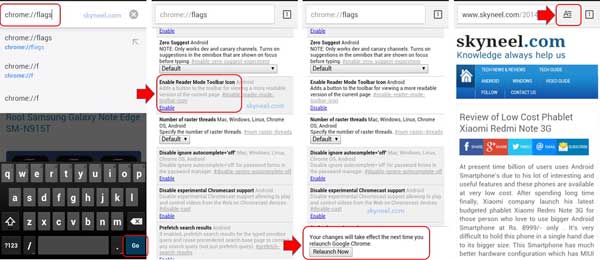 Step 2: Tap on the Enable option of this feature, now you can see a "Relaunch Now" button in the end of chrome browser. Tap on the "Relaunch Now" button and after relaunch chrome you can see Reader Mode option in the chrome address bar.
When you will use Reader Mode option you will get Original View option in end of the article. So you can easily switch between  Reader Mode and Original View.
I hope you like this enable Reader Mode in Google Chrome article and after reading this article your disturbance problem will be resolved during navigation of webpage on any Android device. Kindly share your knowledge and this article with others to help them and also give any kind of suggestion regarding this article in the comment box. Thanks to all.