MS Word provides Section Breaks facility to modify the body structure of one or more pages, insert a break between different columns, separate the chapters page numbering and also create different header or footer with the help of section break in your active document.
Meaning of Section and Section Break:
Section: It is a portion of active document in which you set some pages for formatting options. You can also create a new section, in which you want to change like line numbers, number of columns, or headers and footers.
Must Read: How to Enable AutoCorrect option in MS Word
Section break: It gives you additional formatting options. A mark which you want to insert in active document to shows end of a section. A section breaks stores the formatting elements of a section just like margin setting, orientation of page, headers and footers, and sequence of page numbers.
Types of Section Breaks: There are four types of section breaks used as per requirement in word.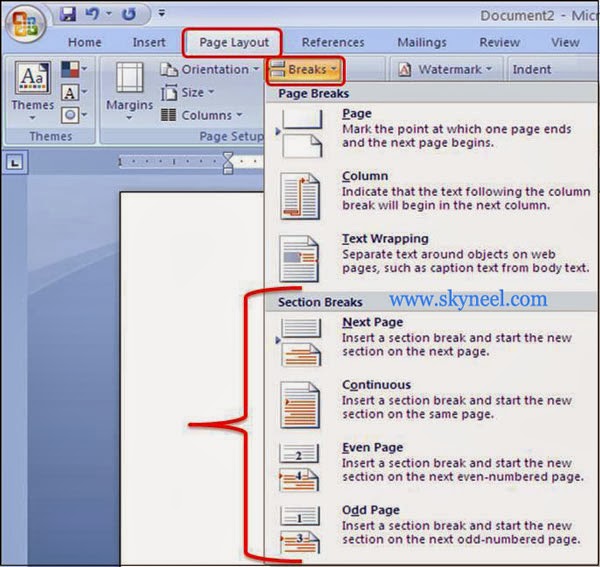 Next Page:It is used to starts the new section from the next page.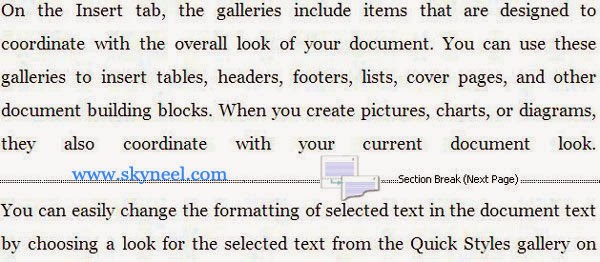 Continuous: It is used to starts the new section on the same page.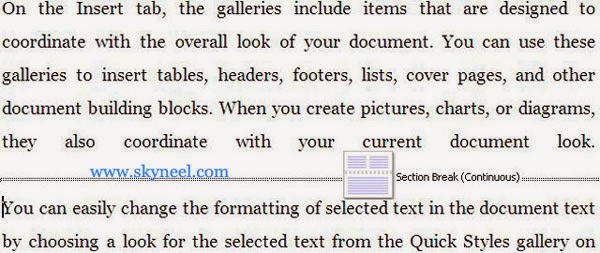 Odd and Even Page: Both options are used to starts the new section on the next odd or even numbered page.

Must Read:  Inserting/Adding Caption on Selected Object in MS Word
How to insert a section breaks:
Place your insertion point where you want to insert section
break in active document.
Click Page Layout tab >>> Click Breaks option in
the Page Setup section >>> Select the desired section break option.
Now section break appears at the insertion point.
How to view section breaks in active document:
Click on View Tab >>> Click Draft Mode to view all kind of section breaks.

How to remove section breaks: 
If you want to removing a section break from active document then follow given steps:
Click on the Home tab >>> Click Show / Hide button in the Paragraph section (OR)  Click View Tab >>> select Draft option in Document Views.
Place your insertion point on the section break
Now Press [Delete] key.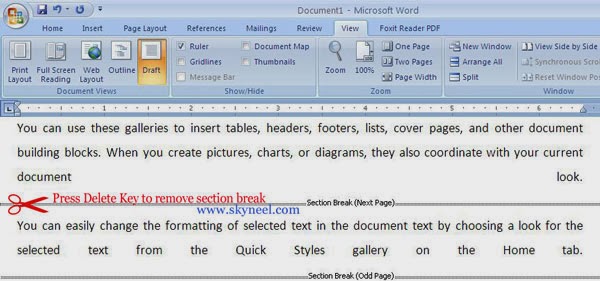 Note: Remember one thing that a section break control the formatting of text with in a section. I hope you like this post. Give your important suggestion in comment box. Thanks.