Hi, Today we know how to take a backup of your installed apps on your Android device like Samsung, Micromax, Karbonn etc. by this article. This is outstanding tricks to copy your all updated install apps to your SD card for a backup.
When you are formatting or reset your phone, then very times you are installing an app from Google play and your use your data plan to install and update your apps. It is really waste of time and data in the your data plan. So here is a useful trick to avoid these problems. In this method you don't need to install and update your favorite apps via internet or Google play store. You can copy your all updated app and make a backup copy of after update your app. In this method we need a rooted phone and root file manager app like Root Explorer app etc. In this process, I am using Root Explorer app, this is a paid app. If you don't want to purchases this app, then you can use any free root file manager app. So lets go to see this trick…
Must Read: Scan Barcode and QR code scanner by Goggles app
Steps to take a backup of your installed apps in Android:
Step 1. First of all, Open root explorer >>> You will get a popup tab from Su app for giving root access permission on Root explorer app. So tap on the grant option >>> Now open data folder >>> In this folder you will see app folder then open app folder. You can see in this image.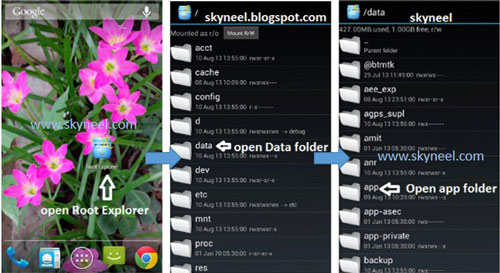 Step 2. Now select all installed and updated apps  >>> then copy your apps >>> and paste on your SD card.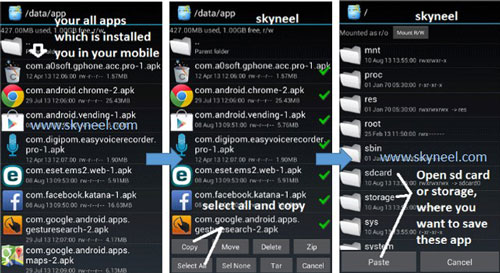 Must Read: How to use default call recorder app in Micromax phones
I hope you like this backup of your installed apps guide from which you will be able to easily backup of your installed apps in Android manually without any extra efforts. If feel any problem in this guide then please use comment box. Thanks to all.