Hello friends, do you know very well about the Google Cloud? Google cloud is a platform which is used to your important data online with the help of internet and also provided different facility for users. Lot of time when you are doing your work on your laptop, tablet or mobile and you want to print any important document then how could you print that document, because printer is set on your home or office building. So here is guide to use Google Cloud Print Remote print.
Due to watching this problem Goolge provide an important facility which name is "Goolge Cloud Print". With the help of this facility you can easily print your important document, image from any remote place without using any extra effort.
What is Google Cloud Print?
This is a latest technology which is launched by the Google from which you can easily connect your printer online and you can do start your printing work either from home or work place daily. Goolge Cloud Print technology works on your tablet, smartphone, desktop PC, notebook or any other online connected device. It is the best experience to use this technology, which provide quick print of any important document. You can not only print any important file or image using this facility but also share your document by a single click, manage or set your printer using this facility. If you want to know more about this technology then you have to click on this link.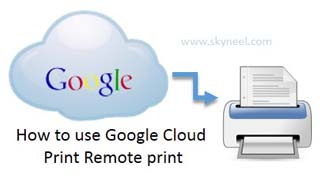 How to use Google Cloud Print:
This technology works only on Google Chrome browsing software. You need to load latest version of Google Chrome browsing software on your smartphone, laptop, notebook or desktop PC, then after you have to logged in using your Gmail and connect your printer with Google Cloud Print facility. After that you have to upload file or image which you want to print or share using remote print facility then click on the print button from remote place or click on the share button to share your connected printer with any other person using your Gmail account.
Process to connect the printer:
You have to take following given easy steps from which you can easily connect your printer. Open you latest version of Google Chrome > Click on the Settings option > Click on the "Show Advanced Settings" option > Scroll down your page then you will get an option "Google Cloud Print", Turn on show notification when new printers are detected on the network option and then click on the "Manage" button > Click on the "Add Printers" option > Open your Gmail account by giving your valid email id and password > Here, you get a list of connected printer, fax or others option, choose required printer and then click on the "Add printer(s)" button > Now, it shows an message on your screen, "Thanks you are ready to start".
Must read:Essential Tips and Tricks of Google Chrome
How to Print or Share:
You can easily print or share one or more documents or images using Google Cloud Print facility but you have to remember few important thing before start print using this technology.
Step 1: Your computer with printer which is already connected with Google Cloud Printer is turn on.
Step 2: Open your Gmail account and upload the file which you want to print by clicking on the "Upload file to print" option.
Step 3: Select the printer name from which you want to print.
Step 4: Click on the print button to start printing of selected files.  You can also share selected file or document which is already uploaded on Google Cloud Print then click on the share button and set the rights to other person.
Must Read: How to increase Google Chrome speed for suffering and downloading
I hope you like this article, use this facility and share your experience with others. Thanks.