Twitter is a social networking site that people use around the world and its users are growing in India. Before using Twitter, an account is created, which is absolutely free. You can create an account on Twitter by entering your required details. After this, you can start using it.
There are five main things on Twitter that a user can do. After creating an account on Twitter, tweet re-hit, follow, search and hashtag is used. Tweet Anyone can have a statement, conversation or news. If you like it, you can retract it so that it appears in everyone's account in your circle. If you like a person or an institution, you can follow it. By doing this you will see their tweets. If you want to find someone on Twitter, you can find them. There is a topic raised in the hashtag. Hashtag is the most trending on Twitter. Today, we are going to tell you through this article how you can use Twitter.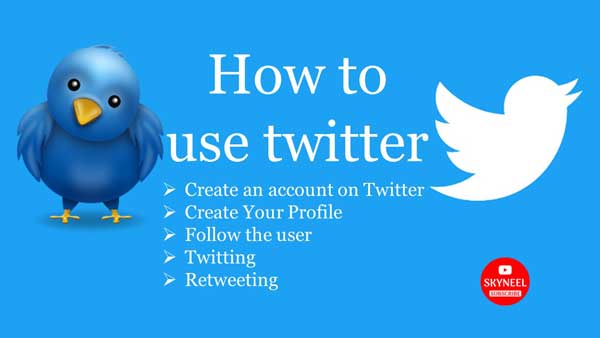 Must Read: How to Deactivate or Delete Twitter account
Create an account on Twitter
1. Open the Twitter website and click on Sign Up option.
2. Now enter the name and telephone number in the box provided here.
3. If you do not want to enter your phone number, use the Use email instead.
3. Now click on the upper left and Next button given.
4. Now click the Sign Up button below and enter the verification code received on your mobile number or email.
5. Then click on the 'Skip for now' option on the top right.
6. Now you will see some celebrity accounts in your account that you can follow.
7. Click on the Next button to proceed.
Create Your Profile
1. Click on your profile icon. Which will appear at the top right.
2. Then click on Settings and Privacy option.
3. Now enter the desired user name in the user box.
4. Scroll down and click 'Save Changes.'
5. Now enter your password that you entered when you created the account.
6. Now you can upload your profile photo and enter the required information.
Must Read: How to Managing Multiple Twitter Accounts at your Smartphone
Follow the user
1. In the Search Twitter box, click and enter the name or handle of the person you want to search.
2. Now click on follow button given in page.
Twitting
1. You will see the right and tweet at the top of the profile. Click on this tweet page will open
2. You can write whatever you want to tweet in it.
Retweeting
1. Open the home feed and click on the Home tab, which will look at the top left.
2. Now select the post you want to retweet.
3. Now click on the "reply" icon. If you want to add something then he can do that too.
In this article, we have told you about how to use Twitter. If you liked this article, you can also like our Facebook page and also subscribe to our YouTube channel. If you have any problems related to this article, you can tell us by commenting.