From last Saturday onward the 11th edition of Indian Premier League (IPL) is started and cricket fever spread out around the world for all cricket lovers. Here there are few top apps of Vivo IPL 2018 that you can install for live updates at your smartphone. From 7th April IPL started and across the country all cricket lovers support his favourite team and players. Vivo IPL 2018 is a combination of entertainment and cricket which is stared from 7th April 2018.
In this tournament there are 8 teams playing 60 matches for 51 days. Each team trying to winning 51 cr prize money under this tournament. Apart from previous IPL matches there are lot of changes has been done in 11th edition of IPL 2018. There are few top important facts are given regarding the Vivo IPL 2018.
Top Important Facts of Vivo IPL 2018
1. Vivo IPL 2018 camera angle has been set according to the crowed.
2. First time DRS feature used in Vivo IPL 2018. In DSR system each team allows to get one review in one match during playing IPL match.
3. Each team members under this tournament get two type of jursi first for home matches and second for awe match. Home and awe jusri concept fist time applicable in Vivo IPL 2018. Befor that this concept is applicable only in Foot bool matches only.
4. During the league match team members has been interchange, but this concept not applicable for caped holder players. If both team agree then after playing 25th match uncapped player interchange from one team to another team during playing the Vivo IPL 2018.
5. First time all IPL 2018 match you can watch at DD sports channel. DD Sport channel shows only opening, first, final along with all those matches which are plays on the Sunday. The telecast of these match broadcast delay up to one hour at DD Sports channel.
There are lot of cricket lovers who don't have enough time to watch all these match on his TV. Don't worry for all those guys we brings top Apps of Vivo IPL 2018. After installing any app at your smartphone you can easily view live updates of IPL match any time.
Top Apps of Vivo IPL 2018
There are wide range of Apps for IPL 2018, lot of person download and install different apps at his device. But they still not able to properly get live updates, time table and other things. So, in this article we brings top apps of Vivo IPL 2018 for all cricket lovers. You must have to install these apps and enjoy for watching live match, live updates at your smartphone.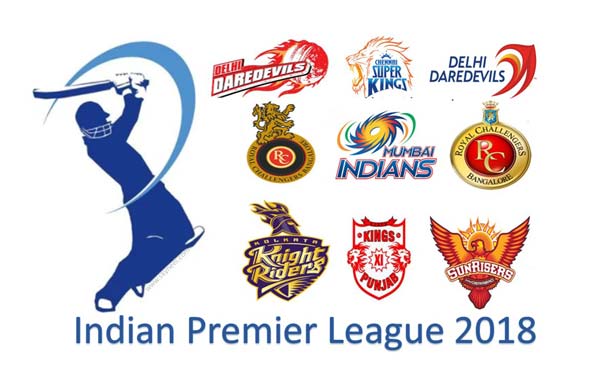 Hotstar
Hotstar is one to the top most popular app for IPL 2018 matches. The Hotstar is an official digital streaming partner for the upcoming Vivo IPL 2018. Hotstar app allows you to streaming live matches at your device. Any Hotstar users able to free stream the live match for the first 10 minutes. After that you can subscribe to Hotstar All Sports Pack which is available at Rs 299, which is valid for one year. You can get live updates, live scorecard, time table, exclusive interviews and many more. You can also get highlights of every match at your smartphone.
IPL 2018 Schedule
IPL 2018 Schedule app allows you to watch live score, time table, schedule, all team and players information at your smartphone. You can watch live streaming for all the matches. You can get live highlight with commentary, photo stream and exclusive interviews with the help of IPL 2019 schedule app at your smartphone.
ESPN Cricinfo Cricket
If you want to get live update of IPL matches at your smartphone then ESPN Cricinfo Cricket is another top apps of Vivo IPL. It is one of the best app which allows you can get live update of IPL match. You can easily bookmark any important news or videos with the help of this app. You can also get a calendar where you can set the reminder just like TV for any upcoming matches.
Cricbuzz
Cricbuzz is one of the best apps for watching Vivo Indian Premier League 2018 matches at your smartphone. You can get live updated information of running matches. You can easily download and install this app at your device from Google Play Store. The Cricbuzz available for Android and iOS both platforms. You can check and follow profile of your favourite player and other information. You can also able to watch highlights of all previous matches of Vivo IPL.
Star Sports
As being cricket lover you can download this official app of Star sports channel. This app is available on both Apple Itunes store and Google Play store. Through this app user can watch live videos of cricket. This app also supports live streaming of HD videos. You can get many others knowledge too along with cricket by this app. You can play HD videos via Wi-Fi and 3G network. 2G network users can see audio and live score updates. This app occupied up to 21 MB space at your device.