Hello friends, you known very well today most of the persons uses Firefox OS Smartphone due to its latest features in low price. Lot of different companies launch latest technology smartphone which provide best features to Firefox OS lover and also give a stylish look like Fx0 4G Transparent with Firefox OS.
The Korean electronics LG company recently launch his latest LG Launch Fx0 4G Transparent with Firefox OS with transparent 4G LTE facility with Firefox OS smartphone which have latest Firefox 2.0 version operating system. This operating system is launched in this Smartphone by LG Company after collaboration of "Mozilla" and Japani Company "KIDDI".
LG Launch Fx0 4G Transparent with Firefox OS
This Firefox OS Smartphone name is "Fx0" and this smartphone selling will be started in Japan in next week at JPY 50000. LG latest new brand Firefox OS Smartphone "Fx0" is based on Firefox 2.0 operating system. That smartphone will be launch in Indian market very soon. Till date only altra low budget Firefox operating system released in Indian market but if this smartphone launch in India then it get owner of the first mid budget Firefox smartphones which will be available approximately of Rs. 26300.
This smartphone has transparent body of whole phone excluding front screen and back body. Every user is able to view all internal part of this smartphone, but the home button of the smartphone has a golden Firefox logo on his body which gives it a stylish look.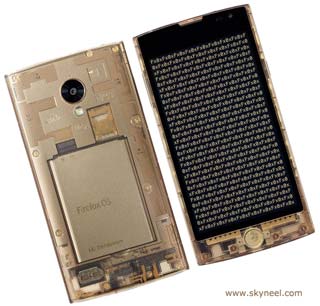 The LG Fx0 Firefox OS Smartphone is powered by Quad-Core Qualcomm snapdragon 400, 1.2 Ghz processor with 1.5 GB RAM. This smartphone has 4.7 IPS screen display, 148 gram weight and 139x70x10.5 mm measurement with 2370 mAh battery. This smartphone has 16GB internal storage capacity and you will be able to expend its memory up to 64 GB on micro SDXC card. This smartphone provide 4G LTE, Bluetooth, GPS, Wi-fi and GPS connectivity facility apart that it also has Micro USB, FM Radio and NFC also. LG Fx0 provide 8 MP rear camera with LEF flash facility and 2.1MP front facing camera which is used for video recording, video calling and also take selfies.
Must read: Review of Micromax YU-Yureka 4G with Snapdragon 615, Cyanogen
LG Fx0 Main important features
It has 4.7″ inch screen which provide high definition IPS display.
It has 1.2 GHz processor, Quad-Core Qualcomm snapdragon 400 chipset.
It has 2.0 version of Firefox OS.
It has 1.5 GB RAM, 16 GB Internal storage which is expendable up to 64 GB on micro SDXC card.
It has 8 MP rear camera with LED flash with 2.1 MP front facing camera.
It has 2370 mAh battery.
It provide 3G, 4G LTE, Wi-fi, Bluetooth, GPS and NFC facility.
I hope you like this Fx0 4G Transparent with Firefox OS from which you will be able to easily use Fx0 4G Transparent with Firefox OS without any extra efforts. If feel any problem in this guide then please use comment box. Thanks to all.