Safety is main important thing for your Android phone. Most of the person use pattern, pin or smartlock feature to lock his Android device but this feature does not lock your specific apps. Now, you can easily lock specific Apps on Android phone without any extra effort.
There are lot of important and confidential data in our phone just like images, documents, contacts, messages, video, audio and many more. Sometime our family members, friends, colleagues view your personal and important data or pictures on your phone. Due to which you have to face lot of trouble at this time and you want to know specific solution for this problem.
Must Read: How to hide your apps from Android or iOS
How to Lock Specific Apps on Android phone
If you don't want to view your important images, data, messages, contacts, WhatsApp and other things then you have to know how to lock specific apps on Android phone. There are lot of third party apps available in the market to solve your problem. But in this guide we have to discuss about CM Security AppLock Antivirus. CM Security AppLock Antivirus allows you to lock Apps, Mobile Data, WiFi, Bluetooth, Incoming Calls, Installing or uninstalling apps, lock browser, play store and other settings. You just have to take few given simple steps to lock specific apps on Android phone. This app occupied 12.09 MB space on your device and easily available on Google Play Store.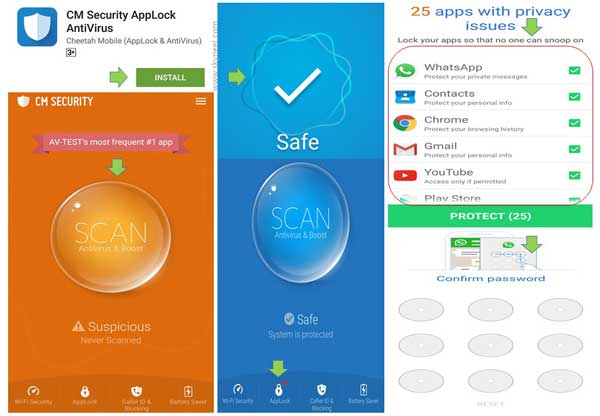 Step 1: Download and install CM Security AppLock Antivirus on your Android phone from Google Play Store.
Step 2: After complete the installation first scan your device. During the scanning if this app found few harmful thins during the scanning you have to remove these suspicious files.
Step 3: Now, select one by one all those important things of your phone which you want to lock like WhatsApp, Contacts list, Messages, File Manager, Images and other things.
Must Read: How to close all background running apps at once on Android
Step 4: Tap on the protect button and set the password to lock your important apps and data on your phone. Again confirm the password. Tap on the Got IT! button and turn on CM Security AppLock which permit to usages the access. Now, you can view lock sign on your Android phone.
All we know safety is an important task for us. After reading this guide you can easily know how to lock specific apps on Android phone. If you have any suggestion regarding this guide then please write us in the comment box. Thanks to all.