Hello friends we know very well what is the importance of Passport in our life. Passport is a personal identification of any person and the help of passport and visa you can easily go out of country around the world for traveling or getting new job opportunity and you can also use your passport for different works like opening bank account, get a new connection of electricity, water, broadband connection and many more. You can apply online for passport with the help of internet connection either from home, office any cyber café very easily. Now as per demand and peoples convenient a passport app is launched for your Android Smartphone, iOS and windows versions.
You can easily download this app from Google Play store without any cost, it occupy less space on your Smartphone and provide great facility. This mPassport Seva app is user friendly and helps the Smartphone user which have different great feature, this app is specially designed for those persons who don't have laptop, desktop pc or tablet. Now, at present time billion of persons uses Smartphone so there is no need to worry after downloading this app in your Smartphone you can easily get any kind of information which is related to your passport. After downloading this app on your Smartphone you can easily get information how to apply for your passport, how to get detail of Passport Seva Kendra (PSK) location of any city, how much charge you have to pay for applying online passport fee, which is the current status of your application, contact date and reporting time on PSK and many more important information.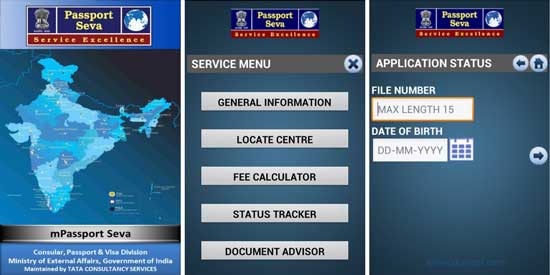 Any Smartphone user will be able to get all passport related information on his mobile device after downloading this app in his Smartphone. The mPassport Seva app also provide toll free number to get any type of information which is related to your passport. After applying the passport you need to search exact location of your nearest PSK (Passport Seva Kendra) or DPC (District Passport Cell) information in different states and this app provide this facility. You can also search any nearest police station information with the help of this app. This app gives to different details like how much fees you have to pay for applying online passport, what is the mode of payment to deposit fees like credit card, debit card, net banking etc. After applying you can easily get information of your document submission date on the PSK, dispatch and delivery date after filling the date of birth or your unique file number.
Must read: Star sports official App: watch live Cricket World Cup 2015
This app is easily download from Google play store and occupied only 548KB space on your Smartphone. At present time more than one lakh users already download this app on his Smartphone and give better ratings of this app. You can easily fill online form for passport and visa. You can get travel assistance facility from this app which help the user at which place he have to go for submit his personal document in PSK.
Must read: Top Smartphone Security Apps to Lock Your Important Data
If you want to download this app then you have to click on these given link.
To download the Android version, click here
To download the iOS version: click here
To download the Windows version: click here