This year HMD Global has recently launched Nokia 4.2, which is looking at the demand for budget range in the Indian market. This smartphone was introduced in MWC2019 with Nokia 3.2, Nokia 1 Plus and Nokia 9 Pureview. Now the company has dropped another budget range smartphone Nokia 3.2 into the Indian market. This smartphone also has a dedicated Google Voice Assistance button like Nokia 4.2. Like Nokia's other smartphones, stock has also been given in this Android. This year, Nokia has launched budget-range smartphones instead of mid-range smartphones. It clearly means that the purpose of the company is to eliminate the budget range of Chinese smartphone in the Indian market.
Let us tell you that Chinese companies launch their smartphones in the Indian market in less than Rs 10,000, Nokia 3.2 will be able to challenge these Chinese companies in the Indian market with the budget range of smartphones? Today, we are going to tell you about the Nokia 3.2 review in this article. You should definitely tell by commenting about how you liked this article.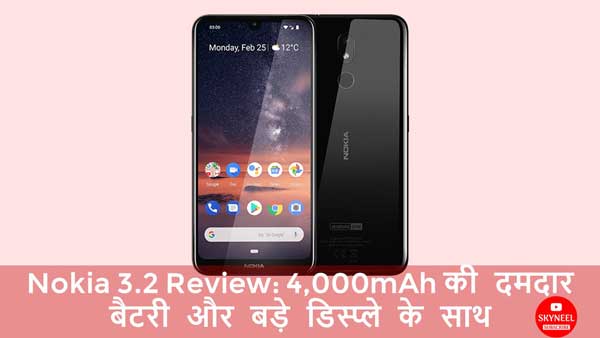 Must Read: Nokia 4.2 review: best in budget range
Design
First thing to talk about Nokia's 3.2 design and build quality This smartphone comes with dual or water drop just like Nokia 4.2, though Nokia's display is larger than 4.2. After gripping the phone, it appears quite solid. The single camera setup in the back of the phone is provided with a physical fingerprint sensor. LED flash is also available with single rear camera. Fingerprint sensors, cameras and flash are central aliens that allow you to click on the photo or unlock the phone. The phone comes in two color options black and steel.
On the left side of the phone you have been given a dedicated Google help button and a SIM card slot. In the SIM card slot, you have given two 4G SIM and one memory card slot. Its front and back panel has a 2.5D curved glass protection. The power button and the volume on the right side of the phone are given. The power button also has an LED light that burns when charging and charging. Talking about the design, its design will not disappoint you. The phone will charge you premium even after being in the budget range.
Display
It has a 6.26 inch HD Plus LCD capacitive touch screen display. The display's aspect ratio is given at 19: 9 and in this also you can watch videos of 720 resolution. To watch videos on the YouTube app, you see a maximum of 720 pixels of HD video, which will be a better experience for users to switch from a basic phone to a smartphone. On the other hand, due to its large display, you can enjoy movies and online streaming apps through the original series, music videos, etc.
Performance
Speaking of performance, it comes with Qualcomm Snapdragon 429 processor. The phone comes in two memory variants of 2GB + 16GB and 3GB + 32GB. You can extend its internal storage via microSD card to 400GB. However, in this range you can get 4GB + 64GB of many smartphones. Even after low RAM, the phone is not lag because it comes with stock Android. I will try to install the Light Version App in it, because the main version of the phone with internal memory and RAM also removes the space and fear of slooping the phone.
Camera
Talking about camera features of the phone, only one camera has been given in its back. Its rear camera has a 13 megapixel autofocus sensor, so you can click the photo of the 4: 3 ratio. With a primary rear camera, you can also shoot 1080p resolution video. The camera also has an Auto HDR feature. A 5 megapixel selfie camera is given in the phone with AI texture and HDR. The phone's rear camera is better, which can also click the good picture in Low Light. Like other smartphones found in this range, its camera may not be very strong, but it can prove to be a better basic smartphone for social media uploading.
Must Read: Realme X vs Redmi Note 7 Pro: who is better
Operating System and Connectivity
Nokia 3.2 comes with Android One platform, due to which you keep Android's latest operating systems and security patches from time to time. In Nokia 3.2, you will get an update of Android's latest operating system for 2 years. It has a battery of 4,000mAh to power the phone. The battery of the phone runs comfortably for one day.
Apart from this, the phone has been given micro USB charging jack, 3.5mm audio jack. With the smartphone coming in this range, you do not get earphones or headphones, but Nokia has given earphones with Nokia 3.2 while retaining its legacy. You can use call reception for music. Features such as Face Unlock and fingerprint sensor for security in the phone have been given.
Dedicated Google Assistant Button
Nokia 3.2 also has a dedicated Google Assistance button similar to Nokia 4.2, which works just like Nokia 4.2 You will get Google Maps, Music, Google Search and Calling options as soon as you press this Power button. You will be able to use these features using voice commands. When you press the Google Assistant Power Button twice, this Voice Assistance gives you deeper information about the main attractions of your day. This feature gives you personalized decorations according to your interest. After the double press, gives you reservation on flight timings, important two-to-work, bill payments and events.
Walky-talkie mode activates when you press long on its power button. That is, you will now be able to talk to your smartphone. As long as you hold down the power button, Google Assistant keeps listening to your query. As soon as you leave the power button, it gives reservation according to your query.
Our verdict
If you are a basic phone user and you want to use Android smartphones without any glamor, then this smartphone can be a great pick for you. Due to being an Android One platform, you can use it easily. In addition, the battery of the phone has been enriched, which can be easily run for 1 day even if you use it too much, you will not need to find the charging point again and again. Also the camera is also good. This smartphone has been launched in India from Rs 8,990.
Must Read: Smartphone can harm your neck and eyes disease, be careful
In this article, we have told you about Nokia 3.2 Review. If you liked this article, you can also like our Facebook page and also subscribe to our YouTube channel. If you have any problems related to this article, you can tell us by commenting.