Do you know what is the notch at Android phone? Most of the smartphone users have little knowledge about the notch and want to know more information. In this article we have to discuss what the meaning and benefits of notch at Android phone. Notch at Android phone is also known as display cutout. A notch at Android phone is an important and essential part, placed at the top part of your screen display. It is one of the main designing trends of 2018 all smartphones.
Notch at Android phone comes in different sizes and shapes in different companies handset. If you compare latest notch smartphone with older one, a notch smartphone comes with more display space than older smartphones. Earlier, smartphone companies launch all the smartphone which comes without notch. These types of smartphone comes with thinner frame around the display screen.
Notch at Android
The notch is a gap usually positioned at the top of the display. Notch at Android found in latest generation smartphones. The notch comes with different sizes and shapes, but its main purpose is always the same. It is used to increase the surface area of the display on the front of the devices without giving up the front cameras or the various sensors which is called bezels.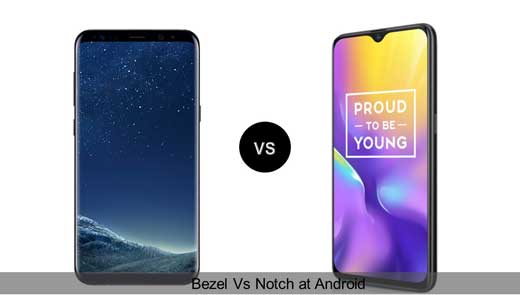 Notch at Android phone is a small cut-out, which is placed at the top part of the your screen display. A notch display smartphone offers more screen display at your smartphone. You can also get battery, date & time, network signals information at the top part of your smartphone. bezels smartphone comes with 16:9 display ratio while notch display smartphone comes with 18:9 display ratio.
Apple is the leader which comes with first notch display at his Apple iPhone. Other smartphone companies get the inspiration with Apple and manufacture notch display smartphone. All important sensors are packed in the notch. A small notch comes with front facing camera and required hardware.
A notch display smartphone have little bit space for system try. You can check most of the notch display smartphone have data, time, network signals at the left side and battery indicator shown at right side of notch. When you swipe down, check default set indicators like Wi-Fi, Mobile data, Bluetooth, flashlight, silent mode, brightness indicator and others. You can tap on arrow indicator which show or hide more useful icons at your smartphone.
Advantage and Disadvantage of Notch at Android
Advantage
Improvement in the screen to body ratio of a smartphone display.
The screen body ratio 16:9 Without notch, while notch display smartphone comes with 18:9 ratio.
Most of the updated apps are compatible with latest notch technology.
Nice looking with a dewdrop notch.
Keep necessary sensors at the top part.
Notch display smartphone gives premium shining looking.
Disadvantage
During playing gaming or watching content online, you can't see some portion of the content.
Most of the important parts hidden behind the notch.
Few peoples don't like notch display smartphone.
Few apps not compatible with notch display smartphone.
If you drop caseless phone at the floor glass looking will be crashed.