All those guys who already visiting on the Flipkart website on last Friday are ready to plan for buying the OnePlus 3. The actual price is approx Rs. 27,999 but Flipkart provide this OnePlus 3 smartphone at under Rs. 20000. Which is approx. Rs. 9000 cheaper than the actual price. But as per latest news OnePlus 3 price confusion on Flipkart sales has been resolved.
Due to OnePlus 3 Price Confusion on Flipkart sales as per latest news Flipkart has removed the OnePlus 3 sales offer. Well it is not good for all those guys who already plan to buy this smartphone during Flipkart sales offer at cheaper price. But after more controversial issue finally Flipkart remove OnePlus 3 sales offer from his website.
Must Read: How to install OnePlus 3 OxygenOS Open Beta 9 Nougat Rom
OnePlus 3 Price Confusion on Flipkart sales
Most of the person don't aware that OnePlus has not tie up with Flipkart. He already has an exclusive tie-up only with Amazon to sell his products in India. It become more surprise to all how could Flipkart list OnePlus 3 on his website with cheaper price.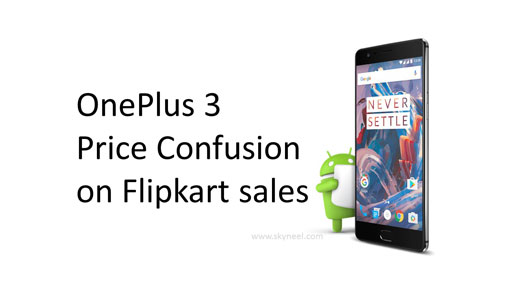 The Co-Founder and CEO Carl Pei of OnePlus express his doubt with the Flipkart Co-Funder Mr. Sachine Bansal regarding this matter. He tweet "What's this? We're exclusive with Amazon." After this tweet nobody gives him proper reply. But after watching the reaction about his OnePlus 3 sales offer, Flipkart removed the offer from his website. OnePlus has an exclusive partnership with Amazon and if you want to make planning to buy the OnePlus 3 then you have to make sure to check it on Amazon only.
Must Read: New update OnePlus 3T OxygenOS 3.5.4 Stock Rom
If you try to buy OnePlus 3 with other online shopping website then you could face a lot of issues which is related to warranty and others. So, be sure and watch properly full detail of OnePlus 3 sales on official website of company as well as Amazon website.