OnePlus 7 Pro with OnePlus 7 Pro was launched on May 14th. You can buy it from Amazon.in, oneplus.in and OnePlus Exclusive Offline Stores. After using OnePlus 7, I thought it was like the captain of the Indian team and the best batsman Virat Kohli in every format. Whether it is a camera or a battery, it looks like Virat Kohli in every sphere with super fast performance. Why should I say about OnePlus 7? After reading this review, you will understand yourself. If you want to buy this phone, here we are giving you OnePlus 7 Review so that you can understand whether this phone is a better option for you.
OnePlus has launched this flagship device with many key features while retaining its promos. For the last 5 years, the company has launched several great flagship devices. This flagship device comes with the strongest processor and best camera features, along with the latest Oxygen OS 9.5. In this smartphone you will get premium experience just like other onePlus device.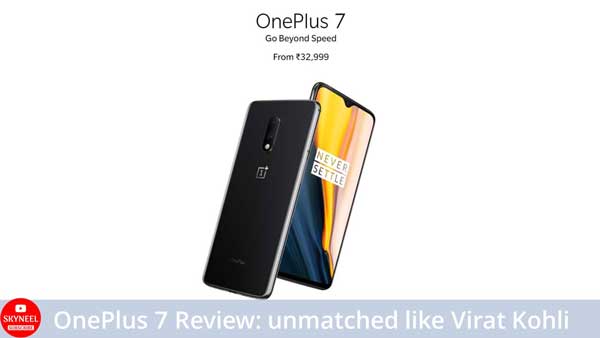 OnePlus 7 comes with two storage options 6GB + 128GB and 8GB + 256GB storage option. OnePlus 7's 6GB + 128GB variant costs Rs. 32,999 and it comes with only Mirror Gray option. The OnePlus 7 8GB + 256GB storage variant is priced at Rs 37,999 and these two color options are available in Mirror Gray and Red.
New features
OnePlus 7 added several new features compared to OnePlus 6T launched last year. Speaking of these features, it has a 48-megapixel primary rear camera sensor. In addition, you get a very fast in-display fingerprint sensor in it. To improve the performance of the device, it has the latest Qualcomm Snapdragon 855 mobile platform processor.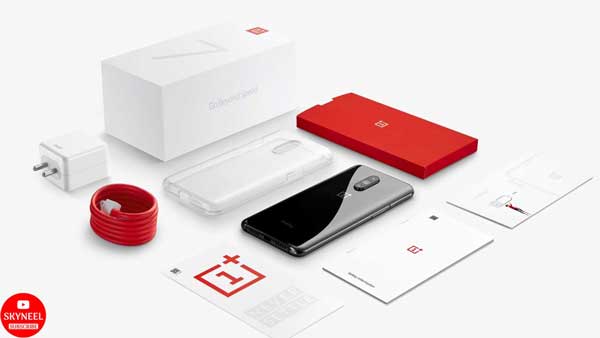 Must Read: OnePlus 7 Pro Review: The Challenge for the Samsung Galaxy S10 Plus
In addition, dual stereo speakers have been provided with Dolby Atoms. The device is integrated with the latest features like RAM Boost Technology and UFS 3.0. The performance of this phone can be very good due to all these unmatched features. Come on, know that this smartphone's design, display, camera and display are unmatched?
Design
OnePlus 7 design is similar to the OnePlus 6T launched last year. No special changes have been made in the design. If both phones are put together then it will be difficult to identify. The OnePlus 7 design has been enhanced to improve the user experience. OnePlus 7 has been designed in such a way that users have no problem in gauging it. However, the basic changes made in design are those, in the back panel of OnePlus 7, you get a curved design on the edges, which is much more heavier than OnePlus 6T. In addition to OnePlus 7 you get a display with the Waterdrop Now feature.
The Inspirational Fingerprint Display Sensor is also included in this. Also, the camera alignment in the rear panel is similar to the OnePlus 6T, but both the lenses are taken together with the LED. The design of its LED flash has also been changed. The volume is placed on the left side of the phone, while the button to push the ringing mode of the phone with the power button on the right is given, which usually gets you to see in the iPhone. You do not have a headphone jack in the phone. The long earpiece is thin on the look panel in the front panel of OnePlus 7. Along with this, the proximity sensor has also been aligned.
You have been given a SIM card slot on the left side of the phone. With this you do not get the memory card slot. At the bottom of the phone, you get both kinds of speakers with USB Type-C port. Overall design of OnePlus 7 gives you a premium feel. Plus you can flush it well. Smooth Vortex in the rear cover is protected from Corning Gorilla Glass 6. The back cover of the phone comes in color, which gives the device a premium look.
Must Read: Smartphone can harm your neck and eyes disease, be careful
Display
OnePlus 7 has a 6.41 inch optical AMOLED display. The display's resolution is 2340×1080 pixels and it supports 402ppi. Aspect ratio of display 19.5: 9. Talk about the design of the display, it has got the Waterdrop Notch feature. It has a 16-megapixel front camera integrated which is used for Face Unlock and Selfie. Due to the AMOLED display, this video clearly shows every object crystal during streaming.
The brightness level of the display is also good and you can use it better in the sun. There are also several modes in the display, in which the Night mode, Reading mode is main. If you use a smartphone in the night, you can use the Night mode setting. You can use reading mode to view PDF files and documents. The video vendor also has a display for the video. That's why we are saying that the pitch is like Virat Kohli, you can use this smartphone at any time and adjust the performance.
Performance
In the case of OnePlus 7 performance, this range is heavy on many major devices. Snapdragon 855 mobile platform has been used in this. This 7nm Octa-core CPU processor is 45 percent faster and uses 20 percent less power. Just like Virat Kohli is the fastest-performing batsman, the smartphone also performs quite fast. OnePlus 7 screen unlock is also quite fast, which gives you a comfortable experience.
Speaking of sound quality, dual stereo speakers have been used in it. Due to Dolby Atoms, it receives better stereo sound in its left and right sound channels. It uses RAM Boost Technology which is a boon for gaming lovers. Due to RAM boost features, it takes a lot of time to load the game.
Must Read: Realme C2 review: Attractive design and best battery life
Software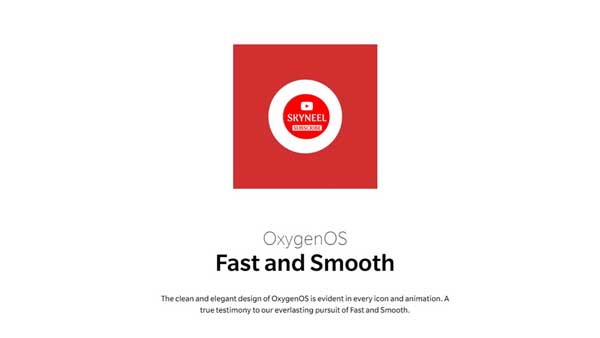 OnePlus 7 is based on the Oxygen OS 9.5 which is Android 9 Pie. In this operating system, many Indian centric features have been provided. Due to this new oxygen OS, the performance of the device has also increased. There are many useful features that are optimized to look fast and steady. Oxygen OS 9.5 comes with an inbuilt screen recorder, as well as features like gaming lover like Jane Mode. Due to these latest features this smartphone gives a much better performance. If you use this smartphone you will be aware of its performance.
Camera Segment
OnePlus 7 has a powerful dual lens setup that can be clicked by crystal clear image at any time. The latest ultra shot imaging technology has been added to its camera, which gives you a better experience. It has a 48 megapixel Sony IMX586 sensor, which has an aperture f / 1.7 and can click the picture of 1.6μm pixels size. Its camera supports both the OIS and EIS features.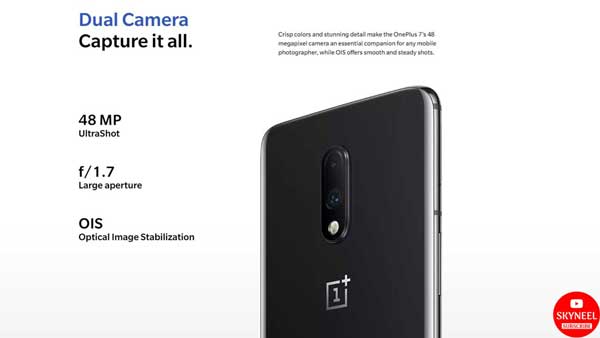 In ultra shot mode, you can click the picture of the HDR + quality. Its back has the second camera of 5 megapixels, its aperture is f / 2.4 and it can click the picture of 1.12μm pixels size. Dual flash LED light is provided with the camera. You can record 4K quality video with high resolution. Apart from this, you also get a super slow motion feature which can record a 1080p quality video. OnePlus 7 has an ultra-shot photo camera. No need to increase the photo taken from it, you can call it ready to print. Just click the photo and print it.
Battery
OnePlus 7 has 3700mAh of battery and fast charging support. Even after opening a number of applications for a long time, device performance does not matter.
Must Read: How to Take Good Photos With Your Phone
Verdict
After the observation of OnePlus 7, this smartphone is unmatched like Virat Kohli. In this you get better camera feature, get premium design. In addition, the latest operating systems, faster display and security features are available. This smartphone, with so many features in the price range of Rs 33,000, can be called a smartphone with no performance.
In this article, we have told you about OnePlus 7 Review. If you liked this article, you can also like our Facebook page and also subscribe to our YouTube channel. If you have any problems related to this article, you can tell us by commenting.