At present time WhatsApp and other popular instant messaging apps are too much popular. You can easily take online backup or save them on other location. But most of the person still like to keep normal sms in his phone. After reading this guide you can easily save your personal messages forever without any extra effort.
Before the instant messaging apps just like WhatsApp, Hike, Facebook and others normal sms is too much popular. We know the importance is reduced then presently used instant messaging apps. You can easily send email or take online backup of all these instant messages apps. But there are lot of person still like to use normal phone in which they have to use normal sms for communication on daily basis.
How to save your personal messages forever
Old phone does not have sending email or online backup facility. In that situation there is big question arise in front of you how to save your personal messages forever. Sometime these normal sms are too much important for us. If you received any important messages from any bank, e-commerce company, online payment received confirmation messages or others then you have to keep the received copy permanently.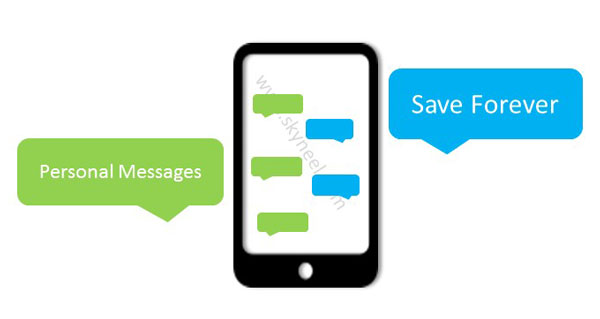 Must Read: How to block unwanted phone calls and messages via voicemail feature
Most of the person don't have any idea how to do this job. Don't worry this guide helps you to quickly save your personal messages forever. You can choose any given method to save your personal messages forever either from PDF, Screenshot or for Hard-copy.
Save as PDF
If you want to save your personal messages forever then you have to save them as a PDF format. You can save your all normal sms in a PDF file with the help of computer.
Take Screenshot
After connection your phone with computer or laptop you can take screenshot. You can combine all these screenshot either in Word, Pain or any other program. After that you have to same this file on your system.
Take Hard-copy
You can also take printout of all your important sms which are important for your future purpose. If you have Android device and support air printing facility. In that situation you can directly take printout of your important messages with the help of cloud printing feature. If you have don't have Android or any other smartphone then you have to take printout of all saved PDF or Screenshot important messages.
Must Read: WhatsApp How to count the number of messages sent to a person ?
I hope this guide useful for all those guys who want to know how to save your personal messages forever on normal phone. You can also use given methods for your Android or other phones. If you have any query regarding this guide then write us your suggestion in the comment box. Thanks to all.