Sometime you feel your phone getting too much slow or facing lot of issues at your smartphone. What is the main reason behind this cause? Is your phone was hacked? In this guide will share you few clear signs to know your phone was hacked or not? If your phone is in the safe zone, you may be wrong. To reduce the risk you must check out given clear sign to know if your phone is hacked and what steps you have to take to protect your phone.
What is the Clear signs to know your phone was hacked
If your phone really hacked by someone else then your important data just like your bank detail, social communication website user id and password, or any other important data will not be secure. It's not easy to handle that type of situation easily. You have to know the signs due to that your phone was hacked.
Common security mistakes done by Android phone users
Facebook Security Tip – Set up Login Alerts of unrecognized login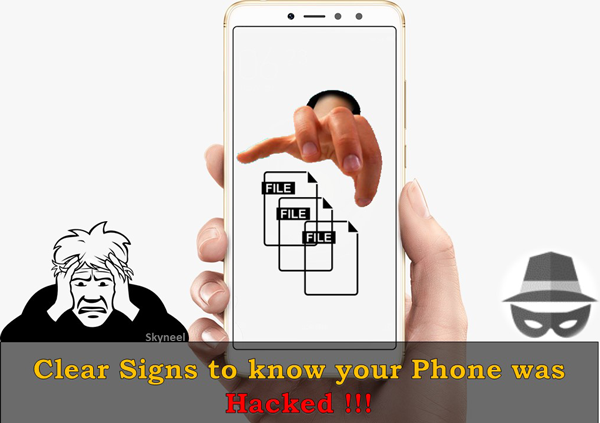 Background Noise
Sometime most of person notice there are few noises or echo during the phone call or listening the audio and haven't had them in this location before. It could be sign that your phone was hacked.
It is worth to regularly checking your phone to keep updated with any malfunctions. You must have to sue that regular updates are made in your phone, so that fix lot of issue at your smartphone.
Phone Battery Juice Quickly
If you begin to notice that your phone battery has suddenly started to run out of juice very quickly. you must have to charge your phone battery again and again. This could be happen when any unknown app is running behind your phone. Most of person like to play different games on regular basis at his smartphone and un-authorised person insert different virus in your device. Due to that reason your phone battery juice up very quickly.
Phone Heating
Most of the person complain his phone heating too much and not easy to hold the phone. If you feel that your phone gets warm, even when you don't accept any phone call or doing any other job. This is another clear signs to know your phone was hacked due to running unknown apps in background.
5 tips for secure Android Phone
How to increase Android Smartphone Security
Restart Phone
If your phone restart or reboots again and again, switched off or start , other applications at your smartphone. First you check is any hardware issue at your phone, if not then it it could be on tapping mode. So, you must aware and clear sign your phone was hacked by someone else.
Can't Switch Off
Many time if you phone infected with any malware, then you are not able to switch off your device. If your phone hang again and again, and not able to switch off your phone by pressing power button. At that situation you have to open the back panel of your phone and remove the phone battery to switch off your phone.
Older Version of Apps and Software
Sometime old version of different apps and software not able to fight with different issues. Most of the person don't like to update his phone software with latest one, that may cause lot of issues.
Data Consumption Increase
You can check most of the person usages an average amount of data consumption on daily basis. But suddenly, what happens in your phone, data consumption too much higher than normal days. It is an indicator that another device transmitting data from your device to its own device.
How to protect your phone
If your phone hacked by an un-authorised person. You must have to take given steps to protect your smartphone.
1. Don't open the link which is received from un-recognised website or don't have full URL.
2. If your phone battery is little bit then charge your phone with your own charger with wall socket. Don't charge your phone with laptop or any computer via use cable. If you don't have any choice and need to charge your phone battery then choose 'charging only' option.
3. Don't save your email id or bank account password in your phone.
4. Clear apps and web browser cache memory on regular basis.
5. Remove unwanted apps which is running in background mode in your smartphone.
6. Regular update your phone software and also update your phone apps with latest one.
7. Don't use free to use Wi-Fi networks.
8. Install updated anti-virus at your phone.