Apart of great different features of android smartphone there are lot of app are also available on the internet from which you can do different jobs. Most of the persons uses different type of apps in his smartphone as per his requirement. Few apps are paid but rest of the other apps are free to use, these apps are user friendly and easily available on internet from which you can easily download and install in your smartphone.
Today we discuss about an important app from which you can easily unlock door of your house. I think you will be surprise after reading this line, and a question is arise can we unlock door with the help of smartphone app. The answer of this question is 'Yes', with the help of August Smart Lock app you will be able to easily unlock door of your house. Let's discuss about this topic in brief….
We known that smartphone make our life very easy with the help of these android smartphone you will be able to perform different jobs very easily and quickly without taking help of any other person. If you want to go for vacation with your family members out of station in that situation you will be worried about who is taking care of your house when nobody is there to take care of your house. Now, there is no need to worry after using this app you will be tension free after using this app.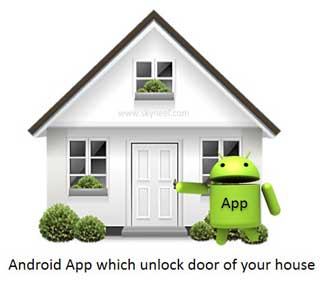 August Smart Lock App for unlock door:
August smart lock app is developed by the August company, which already developed different types of useful app for android smartphone. August Smart Lock app enable you to easily unlock door of your house. You can easily download this app from the Google Play Store but if you want to use this app then you have to pay approx $250. This app occupied 6.3 MB space on your smartphone and already downloaded by the different users. But if you want to download this app on your smartphone then you must have android 4.4 or upper operating system in your smartphone.
Must read: Top five job searching apps for Smartphone
After downloading this app first you have to install this app in your smartphone. This app generate a lock code from which you and any other person which have this code easily unlock the door of your house. If your relative or guest reach to your home in your absence then there is no need to wait for keys, if you send secure lock code to his smartphone then he is able to easily unlock the door but before that he also install August Smart Lock App in his smartphone. You can download this app from the Google Play Store.
Important Features of Smart Lock App:
This app control your door lock without any key.
Quick send invites for access the code for a few days or hours.
Check status of your lock by remote access with the help of this app.
This App setup support to connect of five android phones.
This app improve Bluetooth performance.
This app also fix any type of bugs.
This is a paid app.
Must read: Tips how to take care your android smartphone
I hope you like this article, give you important suggestion in the comment box. Thanks to all.