How to Update Aadhar Card: Aadhar card is one of the most important documents in India, which is used as an identity proof and to perform official functions. But what if there is some mistake in your Aadhar card? It is very important that all the information given on Aadhaar is correct. It is to be noted that the Aadhar card comprises the Aadhar number which is a 12 digit random number issued to the citizens of India after completing the verification process as prescribed by the Unique Identification Authority of India (UIDAI). Today we are going to tell you about How to Update Aadhar Card in this article. If you liked this article, then you must comment about it.
Aadhar card is an essential document, due to which the central government has made it mandatory to link it with PAN card, which is necessary for filing income tax returns. However, when you do this, you need to keep in mind that the information in both the documents must be correct and identical and must match at the same time. Any mismatched information will be rejected. However, there are many instances where you can see mistakes in name, address, date of birth etc. in your Aadhar card. Any of these mistakes can cause trouble while linking Aadhaar and PAN. However, what is more important is that you can correct these mistakes.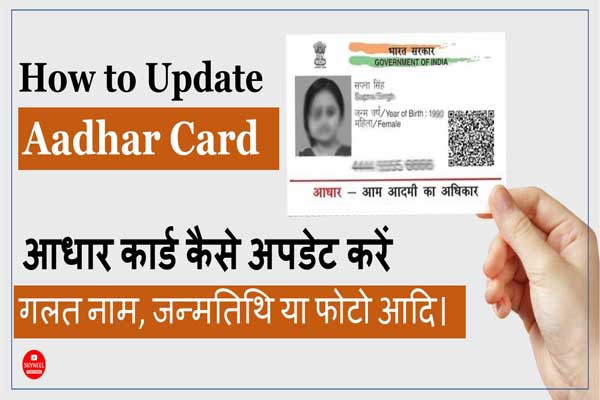 Must Read: How to download e-pan card?
Do not make these mistakes in Aadhar card:
According to the official website of UIDAI, a person is allowed to change his/her name on the Aadhar card only twice. The gender and date of birth of the Aadhar card holder can be changed only once. You also need to note that the date of birth can be updated only if your last date of birth is not verified with UIDAI. Hence the mistake of Aadhar card should be avoided at all cost, as wrong information should not be given while updating Aadhar card. Once you run out of the number of allowed changes you will be in trouble.
How to Update Aadhar Card:
1. Firstly visit the official website of UIDAI or click on the link https://uidai.gov.in/.
2. Then you have to click on My Aadhar tab.
3. Select 'Update Your Aadhaar' and then click on 'Update Demographics Data Online'.
4. As soon as you click on Update Demographics, a new page will open. You have to click on Proceed to Aadhar Update.
5. Then you have to enter your Aadhar number and captcha for verification.
6. As soon as you provide the required details, an OTP will be sent to your registered mobile number.
7. You have to enter the OTP in the box and click on 'Login'.
8. Now you have to make all the necessary changes and upload the relevant documents like ration card, voter id card, driving license etc.
9. After that you will be asked to make payment.
10. The change will happen as soon as you pay the required amount.
Must Read: How to Change Netflix Billing Date?
In this article, we have told you about How to Update Aadhar Card. If you liked this article and you can also like our Facebook page and subscribe to our YouTube channel. If you have any problem related to this article, then you can tell us by commenting.