All of the Smartphone users know very well about the WhatsApp. With the help of WhatsApp you will be able to send or receive different audio, video, text messages to another Smartphone user without any charge. Recently company starts voice calling facility on WhatsApp which we already discussed in previous post.
Today WhatsApp is very popular messenger app around the world which is used on different Smartphone, millions of users are use this app because it is easy to use, easy to install and free of cost. How you could download WhatsApp for Android mobiles?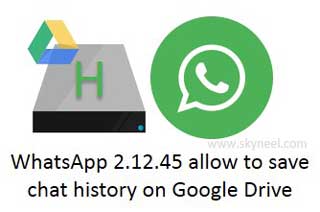 You know very well that WhatsApp has offline conversation backup facility. Lot of time you suddenly lost your all-important chat history of WhatsApp but there is no need to worry because you can easily recover you all previous chat history by clicking on this topic how to recovery of deleted WhatsApp chat on Windows Mobile phone.
Now WhatsApp company launch his latest version which provide the facility to store your all online chat history on Google Drive and you will be able to easily get back all chat history any time. WhatsApp Company updated his messaging app for his valuable user after watching the in conveyance to suddenly deleted chat history. Now, as per the latest feature of WhatsApp you will be able to keep store your all conversation on the Google Drive when you are online. But if you want to use online backup facility of WhatsApp messenger then you have to take few important and easy steps:
How to save WhatsApp chat history on Google Drive:
If you want to save all online chat history of WhatsApp on the Google Drive then you have to take these steps which is given below:
Step 1: Go or open the official website of WhatsApp.
Step 2: Download latest version of WhatsApp v 2.12.45 on your Smartphone.
Step 3: Install this version in your Smartphone.
Step 4: Now, open Settings option > Select Chat Settings option > Chat Backup > Select "take a backup to Google Drive" option > Type your Gmail account in which you want to save your chat conversation.
Must read: Review of Whatsapp Voice Calling App on Different Networks
Note: Currently backup option of online conversation to Google drive is only for Android Smartphone not for iOS and Windows phone. Now quickly install latest version of WhatsApp from official website of WhatsApp and keep safe of your online chat history on the basis of daily, weekly or monthly on the Google Drive. I hope you like this  Save WhatsApp chat history on Google Drive, give your important suggestion regarding this post in the comment box. Thanks to all.