Hello friends, you know about the WhatsApp very well. It is used by billion of users around the world for instatnt sending messages in audio, video or text format. As per previous versions of WhatsApp, users able to sent or receive audio, video or text format messages to each other but now as per growing latest technology WhatsApp introduced a new updated feature in his new version which name is Voice Calling feature version 2.11.561.
Whatsapp free voice calling feature:
This feature is also free to use for your Smartphone. This free to use latest version is now available for all users now users will be able to updated his Whatsapp in his smartphone and this version is available on Google Play store. This update is avaible for all android users but may not possible to download this updated versions for those users who are using old Whatsapp version in his Smartphone. WhatsApp voice calling feature will be updated after updating WhatsApp from Google Play store.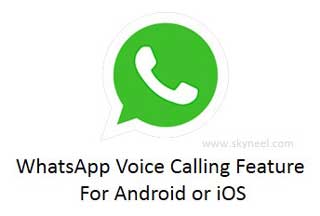 How to update WhatsApp feature?
First you have to download WhatsApp updated version in your smartphone but you have to update voice calling feature of WhatsApp also and for this you have to receive invitation from any other user who already updated WhatsApp voice calling fetature in his smartphone. When you received first voice call of WhatsApp this feature will be automatically updated in your Smartphone.
Must read: How to use YouTube offline on Android or iOS(iPhone)
What you do have to do after Update?
After updating this feature in your smartphone you have to close WhatsApp window. Next time when you open WhatsApp window you have to show WhatsApp voice calling tab option at the place of recent chats and also show three new tabs on WhatsApp home screen – Calls, Chats and Contacts.
There are lot of unofficial APK files are available on the internet but you have to download updated version of WhatsApp either from Google Play store or from official web site of WhatsApp. Recently before few times WhatsApp lauch web version also.
What is WhatsApp Web version?
WhatsApp latest web version is an extension of mobile version. There is no need to download any kind of software in your laptop, pc or tablet. With the help of latest technology of one copy work in your mobile and second copy of this version works in your computer. You will be able to view all live messages on your desktop PC or laptop.
Must read: Recover deleted Photos, Message, Contact from Android Device
To have to use Google Chrome browsing software for using whatsapp web you have to go whatsapp website by clicking on this link:
I hope you like this article, use WhatsApp voice calling feature and enjoy yourself. Thanks.