Hi guys, All we know about the WhatsApp. WhatsApp messenger is an instant messaging app which is used to send text messages, images, audio, videos to other smartphone users.But lot of time we have facing different kind of problems with WhatsApp on Smartphone. Today we have to discuss an important topic WhatsApp Web security flaw that could affect 200000 users.
Most of the person like to use WhatsApp web facility to use run WhatsApp on his smartphone as well as on his PC or Laptop. We already discuss how to use WhatsApp web feature in your PC or Laptop.
Must Read: WhatsApp Security Lack – Allows anyone to track users
WhatsApp Web security flaw that could affect 200000 users
As per the security firm Check Point, if the code is clicked a malicious code can affect your WhatsApp Web and stolen your important data. As per the recent report WhatsApp Web security flaw that could affect 200000 users. Let's have discuss about the WhatsApp web and the recent WhatsApp Web security flaw that could affect 200000 users report.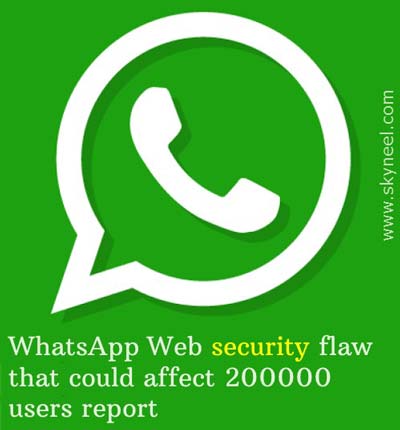 WhatsApp Web is an extension which is based on the computer of the WhatsApp account which is currently running on your smartphone. With the help of WhatsApp Web any user will be able to synced all messages between your computer and your smartphone and you will be able to view and continue chat using WhatsApp on your computer and the smartphone at the same time. The WhatsApp Web is available for Windows, Android, BlackBerry smartphones. But most of the person don't know that facility hack your WhatsApp security and stolen your personal data. A Computer security firm check this point also gives information to WhatsApp that WhatsApp users data will be stolen. If any user using older version of WhatsApp then he will be affected but if you have WhatsApp Web v0.1.4481 or later then they are not affected with the vulnerability.
Some unauthorised person ready to stolen your data when any user want to use WhatsApp Web feature on his PC or laptop. When any user hold his smartphone in-front of your computer during scanning the QR code and run your WhatsApp on PC. There is an message send by the unauthorised persons who want to stolen your data and break your WhatsApp security. That message comes with the name of any phone dealer or any other name. He will provide offer to send any famous personality or other person contact number using vCard. Some of the users who take interest as they click on the vCard, your WhatsApp account will be hacked. After that virus comes in your smartphone and all your personal data will be stolen by these unauthorised persons.
Must Read: WhatsApp problems and solutions on smartphone
After informed about the WhatsApp by the Check Security firm the latter had issued an update previous month to fix that bug. If you want to protect your WhatsApp web account then you must have to use updated version of WhatsApp web in your PC or laptop. As well as also updated your antivirus in your smartphone and PC. They will provide better security to protect your important and confidential data.