Hi at present time billion of users have to use latest technology android smartphone. These latest smartphone are announced with different great features. You know very well that there is a very tough competition between all top mobile companies due to that reason Yu Televentures which is the subsidiary of Micromax Company announced his latest next generation Cyanogen Operating System smartphone which is the upgraded version of Micromax YU. This smartphone previously has a coded name which is called "Project Caesar", but now it will be called by Yuphoria.
This smartphone is the upcoming next generation smartphone for that company start a campaign to suggest the name of this smartphone and this campaign will be called #YUNamelt. To participate in this campaign peoples suggest the name of this smartphone by the social networking sites and company claims that he get above one lakh entries. This campaign is started by the company from 31st March to 3rd April, 2015. The final name will be choosing by the company as per receiving all suggestions between 4th to 6th April, 2015.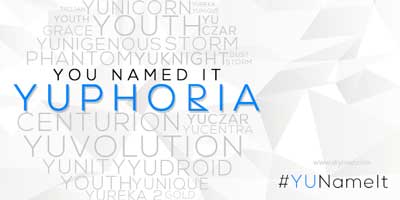 The company also selects top five lucky winners from received one lakh entries for suggesting the name of Yuphoria. In this campaign, participants won latest new YU device apart that they also won Amazon Gift Card which worth is up to 1 lakh. In this campaign company select top five names which he received from different participants and these names are Yuknight, Yuphoria, Yunicorn, Yunity, and Youth. In which the final name which is selected for upcoming next generation smartphone of Micromax Company is Yuphoria.
Must read:Tips how to take care your android smartphone
Company already confirmed that his upcoming next generation Project Caesar smartphone would be run on Android 5.0 Lollipop. Detailed information about the upcoming smartphone which already run with the name of Project Caesar is not announced by the company. Micromax Company also teased his competitive company Xiaomi's Mi smartphone which still runs on Android 4.4 Kitkat on the Facebook post "Kikat in the age of Lollipop? Give me a break!", a part of this company also share another article on Facebook in which said that "Lollipop comes pre-loaded with Project Caesar! Why would YU buy anything else?" for teaser his competitor company.
Must read:Top Battery saving Apps for Android Smartphones
We have to still wait about brief detail of Micromax upcoming YU – Project Caesar next generation smartphone. Company also confirmed that he will provide update of Android 5.0 Lollipop for his Yureka smartphone very soon for his valuable customers.