The IRCTC has been updated, in this article we are going to tell you about 7 new features of the IRCTC website. The official website of Indian Railway Catering and Tourism Corporation (IRCTC) has been upgraded last year and the app has been upgraded last year.
Now, users can now locate the reservation status of the train without logging in, waiting list confirmation probability, compatible design and many more.
Must Read: Book Upto 12 tickets by Linking Aadhaar with IRCTC with-in a month
After this upgraded process the IRCTC website has been made more user-friendly so that passengers can easily book their tickets. After upgrading IRCTC website, users can now locate the reservation status of the train without logging in. Today, in this article we are going to tell you about 7 new features of IRCTC website, which you must know about.
7 New Features of the IRCTC Website
The official website of IRCTC, which has undergone a major upgradation last year, has not only made booking online tickets easier, but has also provided several additional features for its users such as train enquiry without login, wait-list confirmation probability, compatible design etc. Now, IRCTC website become more user-friendly for his users.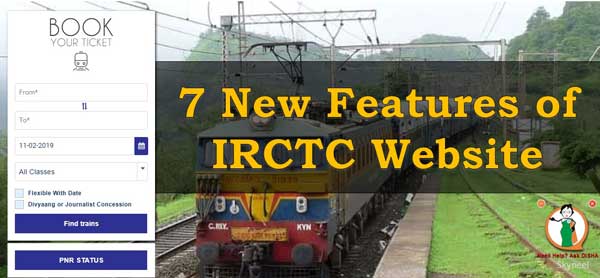 DISHA chatbot
IRCTC has added Digital Interaction to Seek Help Anytime (DISHA) Chatbot equipped with Artificial Intelligence to give 24×7 Assistance to passengers on their website. This chatbot has been added for both IRCTC website and mobile app. With this system, you can put any query regarding the rail journey such as queries related to ticket cancellation, ticket booking, catering etc. would be answered.
Must Read: Facebook Security Tip – Set up Login Alerts of unrecognized login
Book now pay letter
IRCTC has introduced a new feature which allows his users to choose post paid payment option under "book now pay later" category. With this feature added, the passengers can also pay their booked tickets later on. With this feature, passengers can pay their tickets after 15 days of ticket booking or on delivery of ticket within 24 hours. For this, you will have to select Pay-On Delivery option while booking the ticket.
Increase Ticket booking limit via Aadhar Card
By default any registered IRCTC users can book up to 6 tickets with in a month. If you want to book more tickets with in a month then you should link your IRCTC account to the base. After properly link your Aadhar card, monthly tickets booking limit has been increased and you will be able to book up to 12 tickets in a month.
Online Cancel Counter ticket
At present time there are lot of registered IRCTC users using the internet to book or cancel the tickets. Now, after upgradation IRCTC allowed his users to cancel the counter ticket. But after that you will get the money back of ticket cancellation by going to the nearest reservation counter.
Must Read: How to check current PNR status offline or online
Debit Card Transaction
There are many ways for online payment transactions during e-ticket booking on IRCTC website. You can choose Net banking, IRCTC e Wallet, Credit Card, Debit Card, Cash Cards etc. There is no need to pay the transaction charges if you do transactions by debit card,while booking a ticket online. These transaction charges have been completely waved off by IRCTC up to Rs 1 lakh transaction amount.
Travel insurance
IRCTC gets the benefit of free travel insurance on an extra payment of Rs 0.49 to the passengers. IRCTC offering rail travel insurance cover of up to an amount of Rs 10 lakh. The policy information is received by the railway passenger via SMS. You can also get information at your registered e-mail IDs.
Push Notifications on IRCTC website and Mobile app
Push notification allows users to get new schemes, updates, time table etc, at official website or mobile app. To do this you need to subscribe the alerts to get the latest information and important messages on IRCTC.