Amazon Bollywood Basic Quiz Answer 2020 – Amazon Bollywood Basic Quiz Answers by giving Amazon Bollywood Basic Quiz. Skyneel provides all Amazon Bollywood Basic Quiz answers, So play Amazon Bollywood Basic Quiz today. Amazon Bollywood Basic Quiz contest give a chance to . Amazon today quiz time & here you can get fast Amazon Bollywood Basic Quiz contest answer.
How To Play Amazon quiz?
Step 1: This is Amazon App Only Contest – So you have to Download Amazon App from Google Play Store.
Step 2: Now just open Amazon App & Login into your account
Step 3: Scroll down on Amazon App home screen & You will see "Amazon Bollywood Basic Quiz" banner or find quiz on Amazon Search bar and tap on quiz.
Step 4: Tap or Click on the Amazon Bollywood Basic Quiz banner & Quiz will start after clicking "Start" button.
Step 5: Now there will be 10 questions in this Amazon Bollywood Basic Quiz Time, You have to Give Right Answers To All this Questions.
Step 6: After giving right Answers, You will be selected for Lucky Draw of this Amazon Quiz Time Quiz Winners.
Step 7: Few Winners will selected daily, So I request you to take participation in Daily Amazon Quiz Time Quizzes. If you Luck then You Cricket Basic win Something.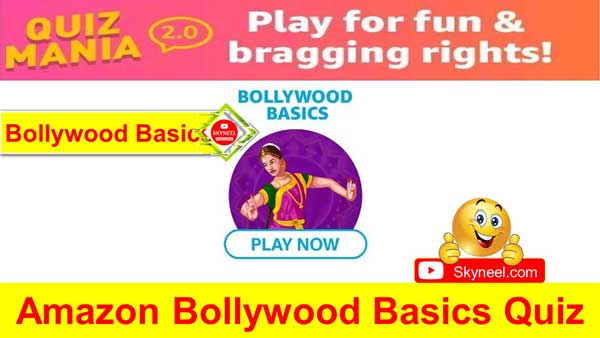 Amazon Bollywood Basic Quiz Answers – Quiz Mania 2.0
Question 1. Which actress who debuted in the movie 'Poster Boys' is currently in focus for her performance in the horror movie 'Bulbbul'?
Answer : Tripti Dimri
Question 2. Which of these Bollywood actresses was crowned Miss World in the year 2000?
Answer : Priyanka Chopra
Question 3. Which of these famous music directors is called 'The Mozart of Madras'?
Answer : A.R Rahman
Question 4. Which of these actresses starred in the movie 'Aaja Nachle' and has been a judge on the show 'Jhalak Dikhla Jaa'?
Answer : Madhuri Dixit
Question 5. Which is the only Bollywood movie of 2020, to cross INR 300 crore in worldwide gross revenue?
Answer : Tanhaji
Question 6. The famous Bengali actress Debashree Roy appeared as which character in BR Chopra's Mahabharat?
Answer : Satyavati
Question 7. Chakke Wali Kursi' and 'Computer Nahi Monitor' are episodes in which Amazon Prime Series?
Answer : Panchayat
Question 8. Nishant Suri, Samay Raina and Akash Gupta have all been winners of which reality series?
Answer : Comicstaan
Question 9. Dil Dariya, Fauji, Circus, Idiot, Umeed and Wagle ki Duniya all feature appearances by which of these Bollywood stars?
Answer : Shahrukh Khan
Question 10. The popular songs 'Musu Musu Hasi' and 'Wo Pehli Baar' sung by Shaan, are from which movie?
Answer : Pyaar Mein Kabhi Kabhi
Play More : Flipkart Fake Or Not Answers Today
Play More : Amazon Sirona Quiz Answers – Win Rs 5,000 (20 Winners)
Amazon Bollywood Basic Quiz Answers –
Question 1. Among Indian players who has recorded the highest ever individual score in the Indian Premier League?
Answer : Amitabh Bachchan
Question 2. The movie Angrezi Medium stars which of these actresses as Irrfan Khan's daughter?
Answer : Radhika Madan
Question 3. Which of these actors is one of the producers of the movie 'Tanhaji'?
Answer : Ajay Devgn
Question 4. The blockbuster movie series Baahubali takes place in which mythical kingdom?
Answer : Mahismati
Question 5. In the movie 'Dangal' Aamir Khan portrays the role of which real life sportsperson?
Answer : Mahavir Singh Phogat
Question 6. Which of these 2020 movies features Malti Aggarwal and activist Amol Dwivedi as the main characters?
Answer : Chhapaak
Question 7. The wedding of which of these Bollywood stars famously took place in Tuscany, Italy?
Answer : Anushka Sharma
Question 8. What is the surname of the character played by Pankaj Tripathi in the Amazon Prime series 'Mirzapur'?
Answer : Tripathi
Question 9. Which of these organisations produced the Amazon Prime series 'Panchayat'?
Answer : TVF
Question 10. Chandra Barot and Farhaan Akhtar have both directed movies based on which of these iconic characters in Bollywood?
Answer : Don
Contest details and how to play:
1. There are 10 questions in each quiz.
2. Answer all 10 correctly to prove your knowledge on the topic.
3. The quiz is not a contest, and is designed for entertainment purposes only.
Note: Only complete entries received during the Contest Period will be considered.
The draw of lots will be carried out during the Contest Period for the questions and a total of 10 participant will be selected as winners by a random draw of lots. The declared winner(s) will be eligible for winning prize. Each winner will be eligible for winning one Prize under this Contest only.