Amazon has announced its Freedom Sale. This Sale will run from August 8 to August 11. The e-commerce company has partnered with SBI Bank. Under this partnership, 10% discount will be given to SBI Credit Card users. For prime members, the Sale will start from August 7 at 12 o'clock. Debit Card EMI, No-Cost EMI, Bajaj Finserv EMI option will be listed on the products. Up to 40 percent discount on mobile and phones accessories will be given. This Sale will get a price cut of Samsung Galaxy M40 and Oppo K3. Oneplus 7 Pro will be listed with Extra Exchange Discounts. In this article we are telling you about Amazon Freedom Sale 2019. You should definitely tell by commenting about how you liked this article.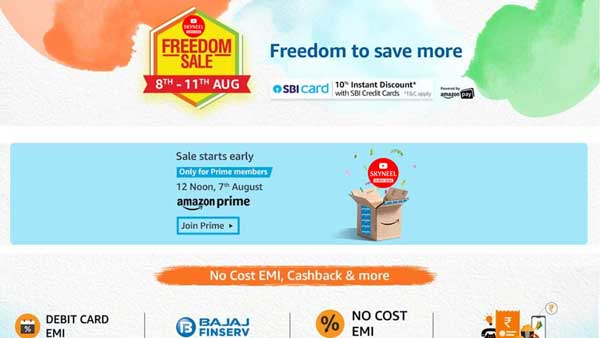 Must Read: Oppo K3 vs Realme X: Who is better?
Amazon Freedom Sale: Mobiles
Amazon Freedom Sale: OnePlus 7 Pro will be listed with additional exchange discounts. There will also be no-cost EMI option. The price of the phone starts at Rs 48,999 and its main features are Triple Rear Camera, 16MP Pop-Up Selfie Camera, Snapdragon 855 SoC and 4000mAh battery. With it, OnePlus 7, Oppo Renault, VivoV15, Samsung Galaxy Note 9 and Oppo F11 Pro will also get additional discounts on the exchange. This Sale will get prize cut in Samsung Galaxy S10, Samsung Galaxy M40, Samsung Galaxy M30, Samsung Galaxy M20, Redmi Y3, Oppo A7, Honor View 20 and Oppo K3. Information on how much prize cut will be available to these phones is not available right now.
Huawei Y9 Prime 2019 is listed on the Freedom Sale page soon to come. Launching of the phone will be on August 1. Hope this phone will be made available with good offers during the sale. Amazon India will also provide power bank, cable and charger, Bluetooth headset and cases and covers with discounts and deals.
Realme 2 Pro and Realme U1 are considered to be a better mid-range smartphone. Users of these two mid-range smartphones prefer a lot. Click here to buy these two smartphones from Amazon.
Must Read: Smartphone can harm your neck and eyes disease, be careful
Amazon Freedom Sale: Electronic Devices
Amazon Freedom Sale: Up to 50 percent discounts on smartwatch, camera and accessories in the Electronics Department. Up to 60 percent discounts on headphones and speakers A discount of up to 30000 rupees will be available at the cost of the laptop. Buyers will be saving Rs. 35000 on fridge and Rs. 11000 on washing machine. Television and AC will be made available at 50 percent discount. The Amazon range, which comes with Echo device, Fire TV Stick and Kindle, will be made available in up to Rs 5,000. Home and kitchen, clothing and daily necessities will also be available at discount in this sale.
In this article, we have told you about Amazon Freedom Sale 2019. If you liked this article, you can also like our Facebook page and also subscribe to our YouTube channel. If you have any problems related to this article, you can tell us by commenting.