Hello friends today in this post we have to discuss about recently launched apple's latest gadget smart watch. There are lot of watches available at this time in the market which has lot of different features. Due to watching the craze of smart watch Apple also decided to launch a smart watch which has lot of features for gadgets lovers. So, due to this reason Apple company also launch his first smart watch with iPhone 6 and iPhone 6 plus Smartphones. Have a look of Apple smart watch review and features.
Apple Smart Watch – Review and Features
It is a great day of Apple Company when we launch three important, attractive and stylish electronic items in the market for the users. Apple company spends lot of time to properly prepare this smart watch and add latest features which does not available in another smart watches. This watch has lot of different features and apps. Its design is similar with Moto 360 watch. Its look like rounded shape watches.  This watch also has metal and leather spots.
Straps of this smart watch very good looking and stylish, these straps are easily folded and can be set in any way. This watch also has metal and leather spots also. The main importance of apple's device is that it make different design from all of them, it has a special design. Watch screen display is smaller. Digital crown button is used to control activities of watch. Its not properly clear how this watch is working and also not properly clear regarding this features and apps.
Must Read: Motorola Launched Moto X, Moto G2 and Moto 360 Smart watch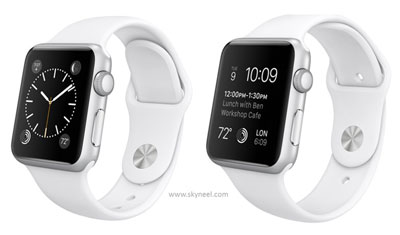 Apple adds a latest feature in this watch you send any message with the help of app of this watch. You can easily use touch feature, from that you can send any message by scratch. Apple started a Eco system app of this watch to give advance facilities to the users, because apple is very serious for the features of this smart watch.
There are lot of sensor which give information in different rings about the phone activity. This app also take care of your health and fitness and give all information who wear this watch on his hand.
Must Read: iPhone 6 and iPhone 6 Plus come with Mobile Pay feature
I hope you like this post which gives you few important information regarding this smart-watch of apple.