Hello friends, At present time most of the mobile manufacturer companies launch budgeted smartphone which comes with different great features and latest technology. Most of the persons must have to use different kind of apps in his smartphone which provide better facility to build strong security of your smartphone. Now, today we have to discuss how to about the Mi-Security app which is used for smartphone. The Mi-Security app, it comes with Micromax A210 Canvas 4. Micromax release fabulous security app by Micromax Canvas 4, Mi-Security app provides Antivirus, Anti-theft, Anti-spam, optimization of RAM features and backup your contacts features.
Must Read: Quick Boot App nice utility for all Android mobile users
Micromax A210 Canvas 4 really cool and outstanding phone and It comes with lots of good features and apps like canvas 4 is the first Android phone from Micromax that has a boot animation with audio and also it has blow air to unlock phone app, this app make canvas phone attractive. This app is a security app and it should be installed on our Android Smartphone. Mi-Security app has in-build many features like Anti-virus, Anti-theft, Anti- spam and optimization of RAM etc.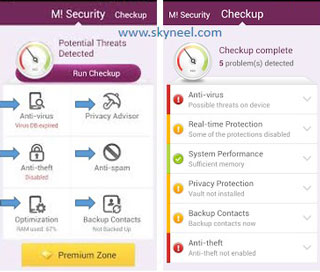 Features of Mi-Security app:
1. It has inbuilt Antivirus.
2. This app has Anti-theft feature, and you can easily configure it.
3. Anti-spam app stop spam on your phone.
4. You can optimize your phone RAM and performance.
5. This app give you privacy protection.
6.  You can take a backup of your contacts.
So, install this fabulous security app and make your phone secure and fast. Download and install Mi-Security app, click here.
Must Read : swipe and share app for Micromax A110 & Android devices
I hope you like this App from which you will be able to easily secure your Android Smartphone with Canvas 4 Mi-Security app without any extra efforts. If feel any problem in this guide then please use comment box. Thanks to all.