In this article, today we know "how to change Boot Animation of your phone. This process requires root access of your Phone. So if your phone is not rooted, then first root your phone after that you can change your boot animation and customize your phone according to you. I am trying to make this procedure easy as much as possible.
Boot animation change processor required root explorer app, if you don't have root explorer then use any other file explorer app.  The Boot Animation of Android has uncompressed zip file which is called bootanimation.zip. You can find this file in the media folder of your phone system folder. In this single file all the information which is required to play the boot animation are saved. This file itself loaded when your device boots. It means changing the boot animation means editing or replacing this file on your device. Here you will see all steps to change Boot Animation of your phone.
Must read : How to take easily backup of your Facebook Account
Follow steps to change Boot Animation in Android device:
Step 1. First of all Download bootanimation.zip file click here and save it on your phone storage. Now open root explorer app, then you will get a popup tab from Su app for getting root permission, So tap on "Grant" to give root access permission. Now go to your phone storage where you saved your custom boot animation and copy this bootanimation.zip file.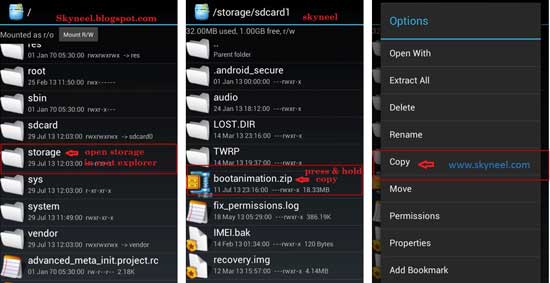 Step 2. After copy boot animation file, then goes to root folder then system folder. Now find and tap on media folder and paste bootanimation.zip file here  (Paste option show at the bottom). Now you will get a warning message then tap on the "yes".  Your boot animation overwrite on stock boot animation. See in this image.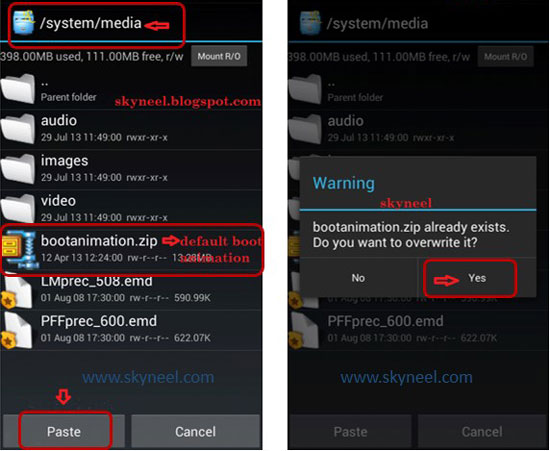 Step 3. Now your boot animation changed, but It's not work without set permission. So you must set read or write permission on boot animation file. Press and hold few second on boot animation file and  you will get lots of options in the option tab, now tap on permission option and you will get a popup tab for set permission. Now tick on owner, group and other for read permission but write permission tick only for owner, then tap on OK.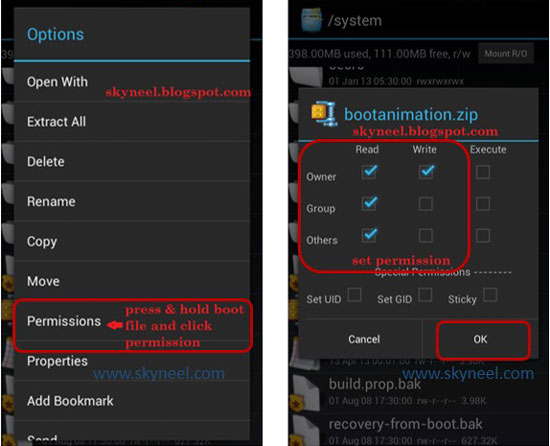 Step 4. That's all. Now reboot your phone and you will see your boot animation working or not.
Must read : WhatsApp problems and solutions on smartphone
I hope you like this change boot animation guide from which you will be able to easily change boot animation on your Android phone without any extra efforts. If feel any problem in this guide then please use comment box. Thanks to all.