In present situation in India, when people are having problem of cash as government banned 500 and 1000 rupees notes. There are long queues before bank for note changing and cash withdrawal. Limited cash in hand causing many problems for common people. They have to delay or put on hold many important works because of cash money problem. So in this article we are discussing about all cashless transaction mode.
For all these problems, there is a solution which our prime minister Mr. Modi also mention that we can go for cashless India. For this we have many cashless transaction options through we can do our shopping, money transactions and many other important works.
According to Abhay Doshi, Senior V-P & Head, Digital Services Platform Business "Digital transactions bring in better transparency, scalability and accountability. The new move will compel more merchants to accept digital money" The Reserve bank of India gives classifications of all modes of cashless transaction or money transfer using cards or mobile phones as prepaid payment instrument. These can be smart cards, debit and credit cards, net accounts, net wallets, mobile wallets etc.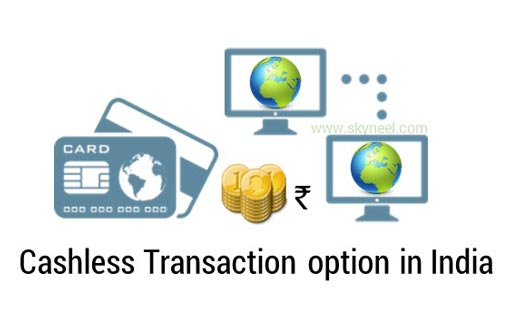 Must Read: Axis Bank Ping Pay India's first multi social payment app
These are 3 cashless Transaction Modes:
1. Mobile Wallet:
In present time, mostly people are using smartphones, so it is most easy way of cashless transaction through Mobile Wallet. it is a prepaid service, in that you have to first add or transfer money from your bank account to mobile wallet. You can store cash on your mobile through it and you can do any shopping, mobile recharge, bill payments, payment of taxi, booking of hotel, movie, bus, train, flight tickets etc. through mobile wallet. mobile wallet holder send or receive money from another mobile wallet holder and deposit cash in these wallets through cash deposit centers. Most used mobile wallets are:
Paytm:
Paytm is third party company of money transfer. You can use its official website or app also. To use this app or website you have to first create login ID through your mobile number or email id.
Mobiwik:
This is also a popular mobile wallet. You can get it from play store and install it. Through this you can also do all kind of money transfer or transaction.
Jio money:
Jiomoney is the newest or very useful mobile wallet. Jio opened money account for all Jio users. If you are not Jio user, you can also make Jiomoney account through your mobile number.
Oxygen:
Oxygen is one of the oldest mobile wallet for money transaction. Through this app users can share money with their friends and family members. In this you can create account through mobile number.
Freecharge:
Freecharge recently bought by Snapdeal, after that it become popular as mobile wallet. It is fast growing mobile wallet.
Must Read: Tips for online shopping safety to avoid any loss
How to add money to these wallets:
There are two ways adding money in these wallets. First you can add money through online process. For this you have to login your ID. After that you have to go to "Wallet" option, here you will see "Add money" option. Click on it and you can transfer money here from any source like net banking, credit card, debit card etc. Second option is that you can direct go to cash deposit centers of these wallets and deposit cash there. As concern of security first you have id and passwords for all these mobile wallets. But you also put mobile lock like screen pattern, PIN or thumbprint for security.
2. Plastic Money:
In this mode, we use credit, debit smart and prepaid cards. All these cards made of plastic that's why it is called plastic money. Through all these cards we can do any kind of money transaction like bill payments, booking of tickets, money transfer to mobile wallets etc.
Credit card:
In this mode, you have cashless payment facility with a set spending limit provided according to your income. you can purchase anything first without paying any money, and after on a particular date you will get your credit card bill which you have to pay within given due date. In this you get many facilities like you can purchase without having money in your account, you can buy products on installment according to your budget.
Debit card:
This card is linked to your bank account. Through this card whenever you made any transaction, that amount direct cut from your linked bank account. In this card, no credit limit, EMI facilities are provided. You can use it till you have money in your bank account.
Prepaid card/ Gift Card:
In this card, first you have to credit money before use. In this you will not get any credit limit or EMI facilities. These gift cards are particular for particular retailer or host. Like Amazon gift card can be used in Amazon purchasing only.
Must Read: Nearest Cash or NoCash or CMS ATM Finder
3. Net Banking:
In Net banking, you can use all facilities of bank from home. You can transfer money to anyone's account, online shopping, generating of ATM PIN and new check book etc. facilities can be used at home. for this first you have to go to branch of your bank and have to fill a registration form, then you will get a login id and password from bank. You can use this id and password on bank's official website. After login, your id you can do any kind of fund transfer to credit, debit cards or mobile wallets etc.
Through all these cashless transaction modes we can get rid of many problems which we are facing nowadays because of limited cash in hand. And we can do all our important works through it. It will help us to be calm in this present scenario and we can also be a part of India's movement against black money.