Top Chinese smartphone company Xiaomi rumoured about the release of latest Xiaomi Mi6 unveiled Qualcomm Snapdragon 835 SoC. The flagship smartphone anticipated with a higher specification on its chipset in 2017.
After the great success of previous handset of Xiaomi no once again company ready to launch next generation smartphone. Do you want to know about the Xiaomi Mi 6 release date, price and specification? This article provide the detail regarding the launching the Xiaomi Mi6. Xiaomi is fast growing company around the world. Xiaomi become world fastest Android smartphone which maintain the quality of his handset in the market.
Must Read: Enable Developer options and USB Debugging on Xiaomi Smartphones
Xiaomi Mi 6 unveiled Qualcomm Snapdragon 835 SoC
As per the report Xiaomi Mi 6 is 5.2 inch 4K screen with give stylish look which comes with 4096 x 2160 resolution. Xiaomi Mi6 comes with 23MP rear camera and 7MP front facing camera. Xiaomi Mi6 comes in different variants just like 32GB, 64GB and 128GB and it is extended with Micro SD card. The Mi6 Android smartphone comes with 4000mAh battery, Quick charging, Retina Scanner, Stylish look and many more.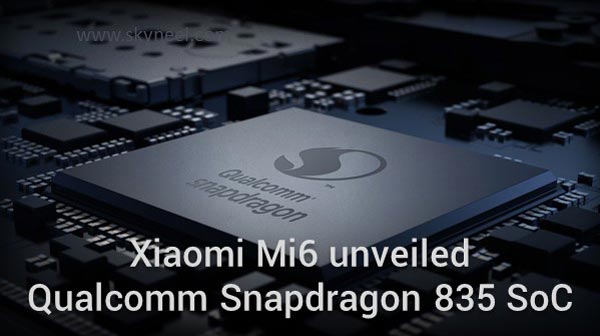 Xiaomi Mi 6 is a next generation smartphone which is unveiled with Qualcomm Snapdragon 835 SoC, Quick Charger 4.0 technology and many more. The Qualcomm Snapdragon 835 chipset provide new experience about the high quality power and performance in mobile technology. The Qualcomm Snapdragon 835 chipset is 10nm FinFET process which is smaller than Snapdragon 820/821 which is based on 14nm process. Now as the smaller in chipset size manufacturer have to use extra-large battery. The Xiaomi Mi6 will the slimmer design as compared than others.
As per the reports Samsung Galaxy S8 will be the first smartphone who has Snapdragon 835. But Mi 6 unveiled Qualcomm Snapdragon 835 SoC with Quick charger 4.0 technology. The Xiaomi Mi 6 Qualcomm Snapdragon 835 SoC expected launching date in March 2017. As per the rumours also spread the news that Oppo Find 9 also launched in March 2017 which comes with Qualcomm Snapdragon 835. But most of the tech manufacturer refused this report.
Must Read: Download Xiaomi USB driver with installation guide
At present there is no final confirmation yet announced by the company when next generation Xiaomi Mi 6 will be launched. But as per the tech analysts the expected launching date of Xiaomi Mi6 Qualcomm Snapdragon 835 SoC will be in March 2017.