All we know very well about mobile radiation and what impact done on human body. Each mobile phone has a specific SAR value, do you know how to check radiation level (SAR) of your Android Phone. In this article we'll discuss how you easily check Radiation level (SAR) on your device?
The rate of transmission or Absorption of radiation is called Specific Absorption Rate. It is also known as the name of SAR. Mobile phones use radio waves to communicate with other smartphone devices. It digitally transports radio waves or mobile data to another device in the form of electromagnetic radiation.
Check Radiation level (SAR) of your Android Phone
Excessive use of smartphone may cause health issue but if you are even using less a smartphone with bad SAR, that is most dangerous for us.
Must Read: Tips of Hidden Secret Codes For Android Mobile
Many people's when go to buy a new smartphone, main focus is only at the cost and feature of the phone. But all ws us don't pay attention to the most important things, which is known as radiation, company service and phone's resell value. Radiation or SAR value means that the phone has a radio frequency transmitting device, which explains what the radiation will be on the phone and how it will affect our health.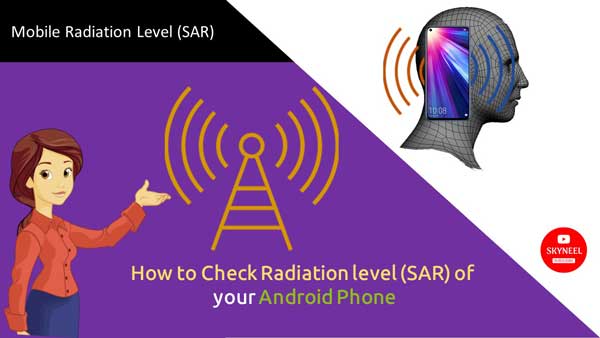 Some companies give SAR rating information in his user manual, which comes with the smartphone box. While few companies provide information regarding this matter on his website. Smartphone users can follow few given steps and know the SAR value of their smartphones. This will know how much it affects at your health and different issues you feel at your body.
Must Read: How to save and extend your Android smartphone battery life
How to Check Radiation level (SAR) of your Android Phone
Federal Communications Commission has adopted limits for safe exposure to radio frequency (RF) energy which is 1.6 watts per kilogram. If your smartphone has below or equal of this SAR levels then it is "safe" to use. If you want to know or check radiation level or SAR value at your Android phone take few given simple steps.
Step 1: First unlock your smartphone and go to the dial pad.
Step 2: Now dial *#07# at your Android phone dial pad. Now, your smartphone will show itself SAR value of your smartphone.
I hope you must check radiation level (SAR) of your Android phone once.