Gmail new look comes with latest confidential emails by Gmail feature for his users. You can easily send or open new confidential emails by Gmail to others with protection. Confidential mode allows you to gives a better control during sending the messages. You can easily set message expiration date, set passcode to open the message. Recipients will not have the option to forward email contents, copy or paste, download or print.
During sending any email you don't have any control. But Gmails new confidential mode gives you control during sending the private or confidential mail. This mode helps you to protect any sensitive information with unauthorized persons. By default lot of Gmail users using classic mode in which feature is not available. But if you already update your Gmail with new look then you will get confidential emails by Gmail feature.
How to recover permanently deleted emails from Gmail after 30 days
How to Send or Open new Confidential emails by Gmail
Gmail's latest confidential mode allows you to easily send messages & attachments to someone. To send or open new confidential email by Gmail, take few given simple steps.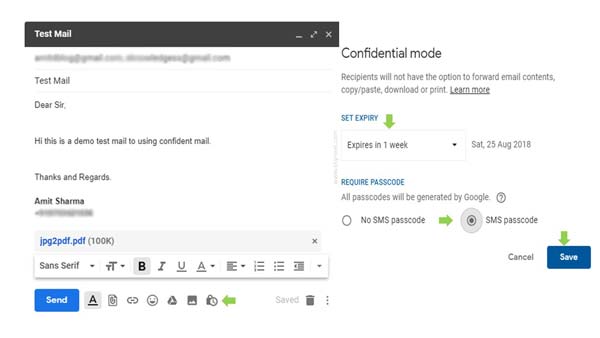 Step 1: To send a confidential emails by Gmail  first you have to open your Gmail account in new look.
Step 2: Click on the compose button to draft new mail.
Important Keyboard shortcut of Gmail account
Step 3: After finish the drafting turn on confidential mode. You can click turn on confidential mode which is located in bottom right corner of your Gmail window. Set an expiration date and passcode as per your requirement.
If you choose "No SMS passcode" option, recipients using the Gmail app will be able to open the message directly. But recipients don't have Gmail account then he will emailed a passcode.
If you choose "SMS passcode" option, recipients will get a passcode via text message. Don't put your own phone number, you have to put recipient's phone number.
Step 4: After finish the above process click on the Save button and send the mail to recipient's.
Click Save.
How to open an email sent with confidential mode
If sending using confidential mode during sending the confidential email then, You can view the message and any attachments until the expiration date or sender removes access. You must have to entry passcode to open the message.