The use of the Facebook page to advance a business, to increase the popularity of anyone. The Facebook page can also be used by people who have more than 5,000 people in their friend list, they can also create your own page on Facebook. If you have your own website and you use Facebook, then you can get good traffic on your site via Facebook page, and like this you can also get traffic on your site via Twitter. Today we are going to tell you how to create a Facebook Page?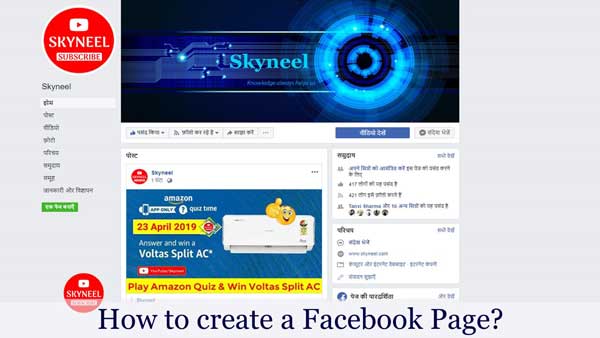 How to create a Facebook page:
Step 1. To create a Facebook page it is necessary to have a Facebook account.
Must Read: Facebook Security Tip – Set up Login Alerts of unrecognized login
Step 2. First of all you have to log on to your Facebook ID.
Step 3. Log in to a Facebook account, click on the mark on the arrow on the right.
Step 4. Click on the first option creation page.
Step 5. Choose the category of your page.
These categories are available to create a page on Facebook:
Company, Organization and Institution:
If you own your company or you run an institution, then select this category.
Local Business or Location:
If you have a business or you have a shop, this option is for you.
Brand and Products:
If you want to promote a brand or product or have your website, then select this option.
Public image:
If you want to make a famous person's page, this option is correct, but keep in mind that it is officially an option to confirm it.
Entertainment:
Through this option, you can create a Facebook page related to a movie, song or comedy or book.
Community or Problem:
There is no owner of Facebook page in this category, more than one people and everyone can update anything.
Must Read: Facebook Messenger unsend feature introduces for users like WhatsApp
Step 6. Choose the category according to your understanding. You can also change it later.
Step 7. Click on Get Started. New Facebook Page Ready
Step 8. Attach photos related to your page and at least 2 lines should tell something about the Facebook page so that you can give information related to your page to the public. Here you can also enter the URL of your website.
Step 9. Add Facebook page to the favorites of Facebook account so that after opening a Facebook account, it will appear above.
Step 10. Share information about the kind of traffic you want to get on your site in the last section. Lie on your page yourself and then invite your friends, from whom you want to get this page added.
In this article, we have told you about create a Facebook Page. If you liked this article, you can also like our Facebook page and also subscribe to our YouTube channel. If you have any problems related to this article, you can tell us by commenting.