Before installation of operating system on your computer system you must partition your disk and then make formatting by using "Disk Management" tool. Disk partition means to divide your physical hard disk into single or different logical drives by the disk management tool in different kind of operating systems like windows XP, Vista, 7 etc. Today we talk about Disk partitioning using disk management in this post. Disk Partitioning is used to separating one physical hard disk drive into several self-determining volumes. It can reduce all sorts all kind of computer related partition problems & this can be done by the Disk Management in Windows operating system.
Introduction of Disk Partitioning>
Disk partitioning is the process from which you can divide any hard disk drive in primary and logical storage partitions. If you have blank or free space on the hard disk you create an extended partition on the hard disk as per requirement.
Types of disk partition:
1. Primary
2. Extended Primary: This kind of partition have only one file system.
3. Extended: This kind of partition have more than one logical partition.
Note: Before formatting be sure because formatting destroy your all data from the active partition on your hard disk. You can take backup of your important data before formatting.
How To create and format a partition in windows
When you generate partitions on the hard disk with the help of Disk Management, first you have to make primary partition of the first three volumes, remaining partition are constructed as a logical drive or also called an extended partition.
Step 1: Click on the Start button >>> Click on the "Control Panel" >>> Click "System and Maintenance" option >>> Click "Administrative Tool" >>> Now, double click to open the "Computer Management". If you are doing this process from another account then you have to give Administrative password to change or set configuration.
Step 2:  Click on the "Storage" option >>> click on the "Disk Management" >>> Press right mouse button on free space of your hard disk >>> Click on the "New Simple Volume" option >>> In "New Simple Volume Wizard" click on the Next button >>> Type the size in MB to create new volume or you can also set "Maximum default size" then click on the Next button.
Step 3: Set the default drive to recognize the new created partition >>> Click Next button. If you want to format newly created volume by the default setting then click on the Next button, but if you want to format this volume later then click on the "Don't format this volume" option then click on the Next button >>> Click on the Finish button.
How to Deleting a partition in Windows
If you have more than one partitions on the hard disk of your computer then first you need to delete the unused partition from your hard disk to get extra space. To delete a partition please follow these steps:
Step 1: You have to click on the Start button >>> Click Control Panel.
Step 2: Double-click on the Administrative Tools icon in the Control Panel window.
Step 3: In right side pane of Administrative Tools window, Double-click on Computer Management icon. OrIn the Category view >>> Click on Performance and Maintenance >>> Click on Administrative Tools >>> Double-click on the Computer Management icon.
Step 4: In Computer Management window >>> click the Disk Management option in the Storage category.
Step 5: After selecting any partition press Right mouse button then choose the Delete Partition or Delete Volume option.
Step 6: Press "Yes" in a confirmation box. Your active partition will be deleted.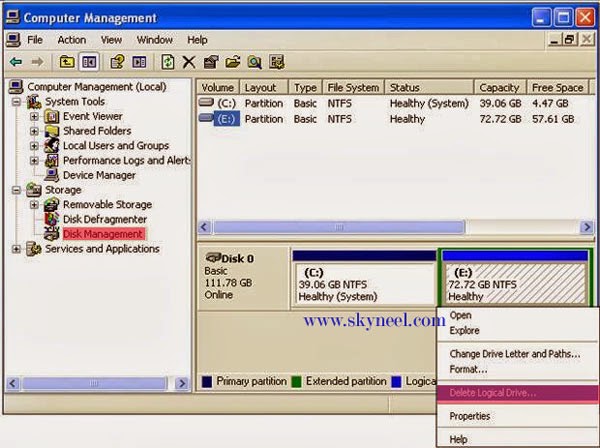 Advantages of multiple partitions
There are lot of advantage of creating multiple partitions on the disk. Some advantages are given below:
Provide Partition for the program files and the operating system.
Partitioning provides a specific zone for swap operating system virtual memory.
Keeping commonly used different programs and data in separate part.
Keep Separate log files and cache from other files.
Use of different-boot formats, to load more than one operating system on the computer.
Reduce diagnostic or preparing backup time.
If you have more than one operating system, one operating system in not running properly due to corrupted files another operating system easily run your computer.
For small files system, increase computer performance on systems.
Create backup image of your operating system in different partitions to easily restore them from another drive.
Disadvantages of multiple partitions:
There are different disadvantages also to creating multiple partitions on the hard disk.
Decreases the total free space available on the hard disk.
Poor disk performance on your computer systems due to multiple partitions.
Facing problem to move folders from one drive to another.
Increases disk fragmentation to block free spaces on every partition.
I hope you like this post. Give your important suggestion in the comment box and also share this article with your friends, office staff members and many more to show your knowledge in computer. Thanks.