Facebook is free to use very popular social networking website. Most of the person facing problem when they have to talk to other friends which don't know your language. Now with the help of latest Facebook multilingual composer feature lets you to post in several languages. With the help of Facebook multilingual composer you can easily send messages in different languages. You can also translate received messages from different languages to your language.
Must Read: 8 Facebook secret tips : You must know
The Facebook multilingual composer allows you to write your post in your language and convert them into another languages in which you want to publish. Lot of person facing hesitation to sending the friend request of that person who don't know his language. But after using Facebook multilingual your problem has resolved. Facebook works in 45 different countries languages. You can easily send message to other country person and translate his received messages in your language easily. Facebook comes with lot of important features like block messages, check who visited your profile etc.
Steps to use Facebook Multilingual Composer feature
It's a great feature for all those Facebook users who want to post his messages and convert them in other language with the help of multilingual composer feature. You can also translate received message in to your language as per your need. You have to take few simple steps to use Facebook multilingual composer feature.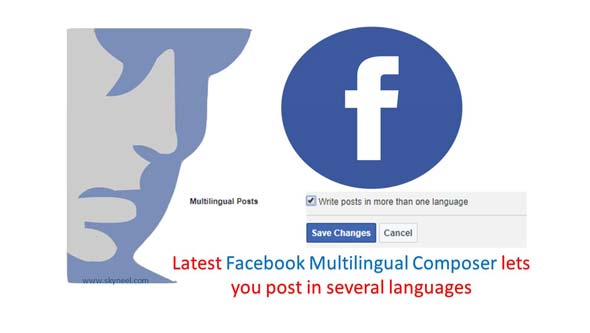 Step 1: Open your registered Facebook account.
Step 2: Click on the drop down arrow which is located on top right corner of your active Facebook window. Now click on the Settings option.
Must Read: How to check who views my Facebook profile?
Step 3: Click on the Language option which is placed in left right corner. By default this feature is turned off. If you want to turn on this feature then click on this feature. Now turn on Write posts in more than one language option. Now click on the Save Changes button.
After turn on this feature you can easily send message to other person who don't know your language and also translate received messages. I hope after reading this guide lot of users have to take benefit of Facebook multilingual feature. You can edit your multilingual post before posting in other language as per your need. If you have any query regarding this guide then you can write your suggestion in the comment box. Thanks to all.