During surfing on the Facebook, you'll get different types of notifications at your smartphone or computer. Most of the person want to know how could they enable or disable Facebook notifications on chrome. In this tutorial we'll discuss how could you easily turn on or turnoff Facebook notifications as per your need.
Must Read: How to delete a wrongly sent message in Facebook Messenger
All we know very well about these notifications. A notification is a message, or an icon which appears automatically infront of your screen. These notification need your attention. Notifications are a way which let you know that something new has happened. Most of the person don't like these notifications at his system. Sometime during doing an important work, you will get notifications again and again.
Sometime these notifications are very useful for us. If you don't want to view more notifications in that situation Facebook allows you to set your Facebook notifications.
Must Read: How to create, view and upload 360 degree 3D Photo on Facebook
Steps to Enable or Disable Facebook Notifications on Chrome?
Few peoples like these Facebook Notifications but few person don't like these notifications. If you want to enable or disable required Facebook notifications on chrome as per your need. To do this job you have to take few given simple steps.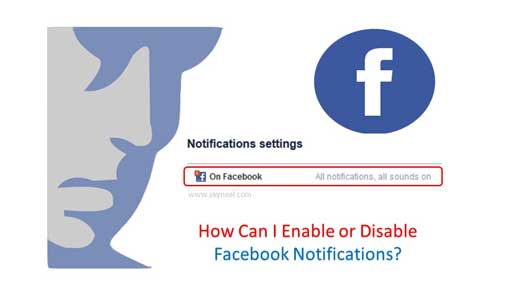 Step 1: First open your registered Facebook account and click on the Settings options. you have to click on the drop down arrow and choose Settings options.
Step 2: Click on the Notifications option, this option is located in the left side of active window. In Notifications settings window click on the "On Facebook" option. Now, You'll see every notification on Facebook, you can turn on or turn off notifications about specific options as per your need. Click on the drop down arrow and choose either on or off and required notification.
Must Read: How To Download Facebook Videos in HD Quality
How to delete a wrongly sent message in Facebook Messenger
When we send a message to other person and after sending the message we felt that we have sent the message by mistake to other person. Now, you want to get back the message or don't want them to read your message. In that situation most of the users want to know how to delete a wrongly sent message in Facebook Messenger.
If you worried regarding wrongly sent message and want to delete them from your smartphone. Don't worry if you are looking the way, then read this article. This article helps you how to delete a sent message in Facebook messenger.
Facebook Trace locations where you're Logged In
You can locate everything from your last logged in locations in Facebook to a browser using a single settings. Facebook trace locations where you are login information on any smartphone or computer. Sometime we need to logged into your friend or other family members Laptop, PC or Smartphone to do this job, and forgot to logout.