metime it's very frustrating situation when your downloaded or transferred audio video file generate an error message when you try to play them on your Android phone. You can check "Unsupported audio codec" or "Can't open file" etc on your phone screen. You must know solution how to fix unsupported audio-video file error on Android phone.
Most of the person are love to play multimedia contents on his Android phone. Most of the person complain that when they try to play files his player does not give proper support of any codec or container. In that situation you are not able to play that file and view an error message or code at your screen.
Solution how to Fix Unsupported Audio-Video File Error on Android phone
Sometime one file format file is playing very well on your Android phone but second one is generated error due to does not support codec or container. It's very frustrating situation and most of the person want to know perfect solution how to fix unsupported audio-video file error on Android phone.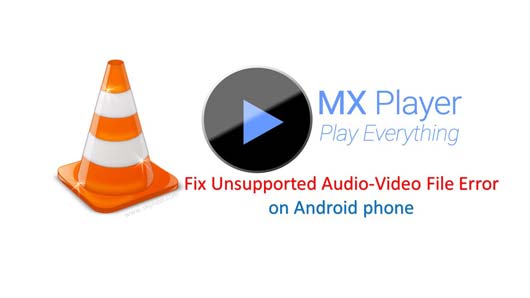 Meaning of codec & container
Codec stands for compressor-decompressor. It allows you to compress specific audio-video file when it can be send or transfer to other device. Compress feature also allows you to reduce the size of audio-video file. Decompress allows you to re-convert compressed file into normal view so that you can play them properly.
Container also known as a file format. It allows you to easily synchronizing any audio and video file and determined the format or type of the file. For.e.g. If you have any video1.3gp file then 3GP is the container.
How to play Unsupported media files on Android phone?
If your video player doesn't support the audio-video codec then you will get "can't open file", "Unsupported video file error" or "unsupported audio codec" error code at your screen. In that situation you must have to switch or change your default media or video play to latest media player. There are lot of verity of latest media plays you can choose any media player which solve error code issue at your Android phone.
As per my suggestion you have to use latest VLC player beta or MX Player at your Android phone. Both are the most popular audio-video players which resolve the unsupported Audio-Video file error issue on Android phone.
VLC Player
VLC Player also known as VLC Media Player. It is a portable, free to use, open-source, cross-platform media player which streaming the media server written by the VideoLAN project. It is available to use for desktop and mobile platforms both. You can easily download VLC player either from App store, Google Play store or Windows store. VLC Player support different audio-video compression method and file formats.
VLC player for Android is a full audio player which has complete database, an equalizer and filters, playing all weird audio formats. You can also use any Video CD, DVD for compression. Most of the person love to use VLC player on his Desktop PC, Laptop, Smartphone etc.
MX Player
The MX Player is one the most powerful video player which comes with advanced hardware acceleration and subtitle support. The MX Player is first Android video player which allows multi core decoding. You can easily zoom in or zoom out the screen as per your need. It comes with hardware acceleration which is applied to more videos. It has a subtitle gesture which allows you to quickly forward or backward to move next or previous text and up or down to move the text.
I hope after reading this article you can understand how to fix unsupported audio-video file error on Android phone. Choice is yours which kind of latest audio-video player you want to use at your device. You can try any player and check that your unsupported format file and other issues has been solved. If you have any suggestion or query regarding this guide then please write us in the comment box.Thanks to all.