At present Reliance Jio is still not launched for business purpose. It's too early to give final experience about the network of Reliance Jio sim. But important thing is that you can get Reliance Jio sim and get full enjoyment of high speed connectivity without paying the amount. Most of the person want to know how to get Jio sim with 3 months free data offer for 4G phones. Let's discuss how to get free Reliance Jio sim.
With the help of Reliance Jio sim you not only get the 3 month unlimited Internet access but also get free access for watching live TV, Video on demand, Movies and many more. But you must have to register for this on the company website. After that you will get a referral code which print you have to take in any Reliance store with your ID and Address proof with passport size photo.
Must Read: Get User Last name or Surname of Any Reliance Number
How to get Reliance Jio SIM with 3 Months data offer for 4G phones
There are a lot of ways from which you can get free Reliance Jio sim. The network is running on the 4G and Voice Over LTE is used for phone calls. The VoLTE does not working on your old Reliance handset. But Reliance offer JioJoin app which helps you to get the full benefit of the Reliance Jio sim.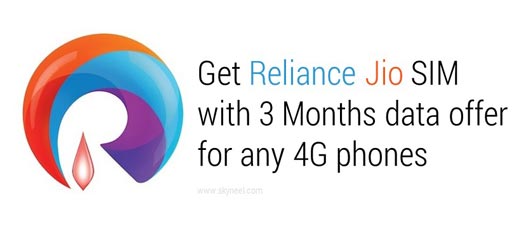 Make friendship with Reliance employee
It is one of the easiest way to get a free Reliance Jio SIM with 3 Months data offer for 4G phones. If you have any friends or family members who is working in the Reliance company, then you can easily get Reliance Jio sim. The Reliance company allows his employees and give certain numbers of people's to get the Reliance Jio sim. You can demand your friends or family members who are doing job in the Reliance company and get the benefit of this sim. Lot of person have to send friend request from social networking website or from WhatsApp to get the SIM. You can also try this way to get the free Reliance Jio sim for your phone.
Buy New LYF Phone
If you want to buy medium budget phone along with free sim with 3 months data offer then you have another easiest way to get the sim. You have to buy new LYF phone from your nearest Reliance Retail store at approx Rs. 3000. During buying new LYF phone from Reliance Store you can also get a free Reliance Jio sim with 3 months unlimited data offer along with free voice call facility. There is one more important benefit for Reliance Jio sim, after getting the sim you can easily get Internet access at your home from running the WiFi hotspot on your phone. You can also access all the apps of Reliance Jio without paying extra amount.
Buy iPhone and Samsung Phone
If you don't want to interested to buy medium budgeted phone and get Jio sim then you have another choice. There is a Jio offer on few Samsung and iPhone handset. When you buy any iPhone or selected Samsung phone then you will get Jio sim along with 3 month unlimited free to use 4G data feature. There is a list given below which is eligible to get free Reliance Jio 4G sim on Samsung and Apple phones.
Must Read: How to hide photos on Android phone
For Samsung Phones:
Galaxy A5 2015 and A5 2016, Galaxy A7 2015 and A7 2016, Galaxy A8, Galaxy Note 4, Galaxy Note 5 and Galaxy Note 5 Duos, Galaxy Note Edge, Galaxy S6, Galaxy S6 Edge, Galaxy S6 Edge Plus, Galaxy S7, Galaxy S7 Edge
For iPhones:
iPhone 6, iPhone 6S, iPhone 6 Plus, iPhone 6S Plus, iPhone SE
If you buy any given iPhone or Samsung phone then you have to download the "My Jio" app on your phone from app store. After download and install this app on your phone you'll get a code for the Jio Sim. Once you have this bar code on your phone, you have to visit any nearest Jio store and get your Sim. To activate this sim you have to call on 1977, after that you can enjoy with unlimited Internet access on your phone.
For HP users
Reliance Jio also provide free Jio sim with 3 month unlimited data pack on 4G for his HP customers. All HP customers take the benefit of the Sim by paying Rs. 2899. Now company has give a wireless compact router against this amount which allows you to use the Internet at your home or your phone. The JioFi is a small WiFi device which create a WiFi zone. In this zone you can easily connect up to 31 devices and access Internet on each device. Before using this device first you have to charge it, which take up to 3 hours. After that you have to use this device just like a battery which is running up to 6 hours. That means you can connect your device with Internet either at home or office or any other place.
The free to use unlimited access for Internet and voice call is available only for three months. This offer is available up to 15th Aug 2016, so you should take advantage of this offer and get enjoyment of unlimited free to use Internet for 3 months.
Must Read: How to make an Android looks like a PC
I hope after reading this guide you your query will be solved and you can easily get Jio SIM with 3 Months data offer for 4G phones. Bring Jio Sim and get lot of benefit of unlimited Internet access for 3 months at your home or office. Thanks to all.