At  this time there are many user work on Hindi typing. During preparing any document in hindi fonts, sometime we need to type Hindi Indian Rupees Symbol font in current document. If you don't have required hindi Indian rupees symbol font there are you not able to type them in your active document. Don't worry, this tutorial will discuss how to download and install Hindi India Rupees Symbol Fonts for your active document. If you don't have hindi font's at your system, just click on the given link to download Devlys and Mangal hindi font.
Hindi is the fifth top most spoken language around the world. The written form of Hindi literature used for the Devanagari script. There are different variety of hindi fonts. During typing in hindi language we need to download and install the hindi fonts. After successfully download and install required any hindi font, you can easily type in hindi language.
How to download and install Hindi Indian Rupees Symbol Font
Sometime most of the person facing the issue how to type Hindi Indian Rupees Symbol Font in your active document. If you don't have hindi rupees symbol font at your computer or laptop then you are not able to type in hindi rupee symbol. You can use given simple methods, which helps you to easily download and install Indian Rupees Symbol Font.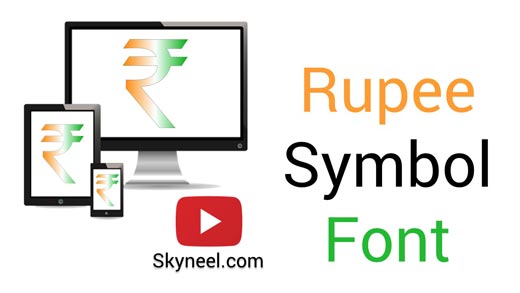 Step 1: Download the Hindi Indian Ruppes Symbol Font .zip file from the given link.
Step 2: After complete the downloading process extract the zip file using winzip, winrar or any other software. After finish the extract process you will get two sub-folders with the name of "_Macosx" and "ITF_Rupee_font_TTF" in "RupeefontTTF" folder.
Step 3: Now, double click on the "ITF_Rupee_font_TTF" folder and you will get "ITF Rupee.ttf" file.
Step 4: Just select and copy the font and go to Control Panel > Fonts > Now, paste the font in active folder.
How to start typing Hindi Indian Rupees Symbol Font
Step 1: After paste the hindi Indian rupees symbol font in font folder, if you want to use this font just open Microsoft Word. To quick start MS Word, open the run box by pressing Win+R shortcut key and type "winword" and press enter.
Step 2: Now choose "ITF Rupee" font and press any key from A to T. Now, you will get different types of Rupees symbol in your active document.
Effortless Hindi Typing Special Character Code
Lot of person facing few problems during typing the Hindi letters in active document.  If you have hindi fonts at your system, then you can easily start typing hindi characters. Few characters are not mention at your keyboard, these characters are known as special characters. To type these special characters you need to use specific shortcut key combination. In this guide, you can learn how to do effortless hindi typing special character code.
Hindi Typing- Steps for Learning Effortless Hindi typing
Effortless Hindi typing is an important part for all those persons who are doing day to day routine official or personal hindi typing jobs. During the typing lot of spelling and grammatical mistakes are done when you are doing typing in English languages but when you are trying to type text in Hindi language you don't have support of any dictionary to correct your spelling mistakes.