If you have one or more existing "Gmail" accounts and want to delete or close them permanently, it's a very big decision. The main issue to do this job is they are currently not utilized by you, they are created only for demo purpose or for fun, forget password of your account and many more reasons. In this article you know how can be easily deleting your existing "Gmail" account permanently.
Keep in mind that you cannot undo this step. Before delete or cancel your Gmail account permanently, you know that your Gmail account is connected with other sites like Google plus, Orkut, YouTube and many more. If you delete your account, then you are not able to open your page in these websites also. So, prepare your mind before delete your account. You are not able to use this account again after deleting.
Must Read: How to Backup/ Restore Call Log, SMS and MMS with Gmail in Android phone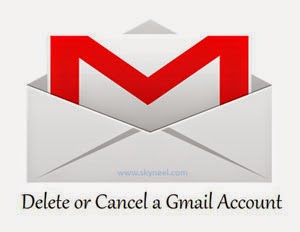 Way to Delete or Cancel a Gmail Account Permanently:
Step 1: You have to Signing or login you current Gmail account >>> Open the Google Account Settings page by clicking "Account" option on the top right extreme corner where your photo placeholder shows or you can also typing the following line in new tab of address bar "accounts.google.com." Now press enter key >>> And you will get following five options like Language, Security, Personal Info, Help option and Data Tool, Click on Data tools option >>> Click on "Delete products" >>> Choose following option "Remove Gmail permanently".
Step 2: It displays a confirmation message "Are you sure you want to delete ………@gmail.com?" >>> If you really want to remove your account then turn ON this option "Yes, I want to permanently delete ……[email protected] and remove it from my Google Account" and give your Gmail account password, and also enter an email address different from the address associated with the account you are closing under new primary email address >>> Now, finally click on the Remove Gmail button.
Must Read: How to increase Internet speed up to 20% without Software
Step 3: You can also delete your Google account Web history, Gmail account and Google Talk by choosing Delete Google Account option.
Step 4: Delete Google+ Profile and features: If you want to delete your Google profile, you delete Google+ as well as other services and their data that depend on a Google profile.
I hope you like this article and easily understand How to Delete or Cancel a Gmail Account Permanently.Kindly share your knowledge with others and send your important suggestions in the comment box regarding this article. Thanks to all of you.