Hi, guys today we know insert or active bookmark In Microsoft Word 2007 and above, Bookmark feature is used to work with hyperlink and quickly find any text of paragraphs in a large document without scrolling the large blocks of text by mouse or scroll bars, or you can also use "Find" command to search any text in active document.
This feature is used when you want to make any editing in the active document. After creating the bookmark you can easily delete, quickly active the position of the bookmark, create hyperlink of any existing bookmark using cross-reference command. You can use bookmark facility to locate any text which you want to use after some time in active document at the place of wasting time to locate the any text by scrolling the page from the scroll bars or scrolling the wheel on the mouse.
To create or add bookmark in word to assign a name to a selected text in active document. Bookmarks is identify our important text in active document and offer the readers with a fast way to search through long documents. In other words, a bookmark identifies a location or a selecting of text that you named and identify for future reference. You can easily add, change, delete a bookmark and also go to a specific bookmark in word. You can make hyperlink that directly jumps to bookmark location.
Must Read: Inserting/Adding Caption on Selected Object in MS Word
How To Add bookmark in Microsoft word
Step 1:Select any word which you want to add in bookmark. (Before Adding Bookmark)

Step 2: Click Insert Tab >>> Bookmark command.


Step 3: Type the bookmark name  in bookmark name box without any spaces then click Add button.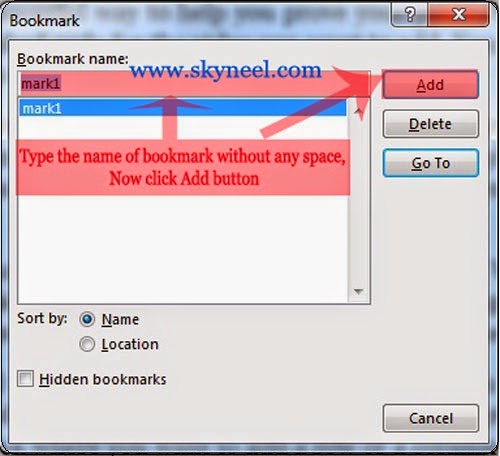 Step 4: Now if you want to directly take your cursor on your bookmark then you have to click Home Tab >>> Go To or You can also press Ctrl + G. Select Bookmark in Go to what>>> Then select bookmark name then click Go To button.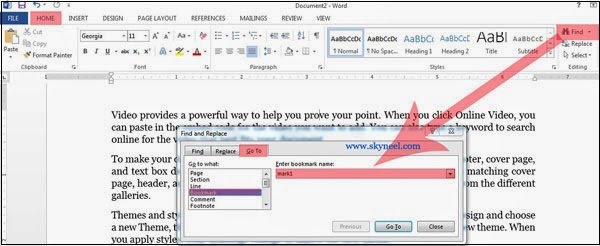 Step 5: If you want to active or highlight the place of bookmark then Click on the File / Office button >>> Click on the "Options" command >>> select "Advanced" category >>> Turn ON "Show Bookmark" option >>> Now, click OK button.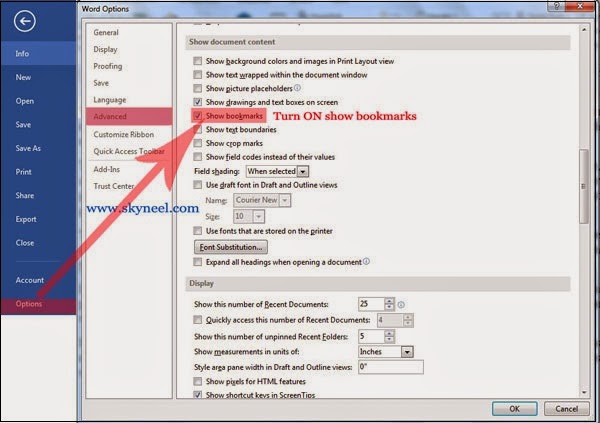 Step 6: After Adding Bookmark it look like given below:

Must Read: Ms Word : Insert/ Remove/ Types of Section Breaks
How to delete any existing bookmark in active document:
If you want to delete any existing bookmark then select the word on which you already set the bookmark by double clicking, Click Insert Tab >>> select "Bookmark" command >>> select the name of the bookmark which you want to delete >>> Click "Delete" button.
I hope you like this bookmark in microsoft word guide from which you will be able to easily bookmark in microsoft word without any extra efforts. If feel any problem in this guide then please use comment box. Thanks to all.